"Thousands" sent to cotton fields in face of sacking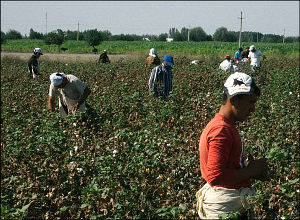 An annual campaign for mobilising the population nationwide for picking cotton is fully underway in
Uzbekistan
: not only farmers, but also regular workers, engineers, medics, teachers as well as students, unemployed ones, military servicemen, police officers and pensioners are all summoned onto cotton fields. International watchdogs frequently rap the Uzbek government for violating the convention on banning forced labour. The authorities, in turn, claim everyone contributes to the cotton-picking campaign absolutely voluntarily.
Fergana has obtained a document that refutes pompous claims the Uzbek authorities make and illustrates in detail the practice of forced labour in Uzbekistan. The document in question is an order issued by Alik Nurutdinov, the director-general of the Metallurgy Plant of Uzbekistan Joint Stock Company, a very large industrial company.
According to this order, 3,500 employees of the plant were sent to cotton fields in Bekabad District of Tashkent Region starting on September 9. A total of 12 busses, 10 cars and 11 tractors are engaged for transportation purposes; responsible persons have been assigned and significant amounts of money are funnelled from the company's budget.
That said, the document does not provide for specific timeframe of the employees' deployment on cotton fields. However, extrapolating on practices of previous years, one can presume the "voluntary assistants" of farmers will spend several weeks, if not an entire month, on cotton fields until the quota is met.
According to the company employees, they are threatened with being fired if they refuse to go to cotton fields. "Although it is not expressed in the written order, [an order to this effect] was passed down unofficially by the leadership and it is adhered to unquestionably," an anonymous source tells us.
Fergana international information agency.