Uzbekistan-Tajikistan: No border conflict, only mine killed citizens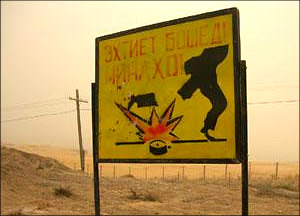 A banner warns citizens of mines near the Uzbek-Tajik border. Photo by Mikhail Bushuyev/Deutsche Welle
The subsequent unfolding of events revealed an alleged shootout on the
Tajik
-
Uzbek
border, which Tajik mass media reported about, did not actually take place. The border protection services of both countries issued official statements, which read several Tajik citizens stepped on and triggered landmines that have been planted here since early 2000s.
RIA Novosti cites an unnamed representative of the State Border Protection Committee under the National Security Service (SBPC NSS) of Uzbekistan as saying the incident took place on a border section between Samarkand Region, Uzbekistan, and Sogd Region, Tajikistan, when a group of Tajik citizens attempted an illegal crossing into Uzbekistan.
Muhammad Ulughojayev, the press secretary of the Border Troops Main Administration of Tajikistan, also stated that the Tajik citizens in question triggered antipersonnel landmines that Uzbekistan installed on its territory (according to News.Tj).
"Challenging weather conditions and landscape are still preventing the retrieval of the deceased ones' bodies from the place of tragedy and establishment of their identities," Mr Ulughojayev is quoted as saying. At the same time, he has categorically refuted information several mass media outlets carried, reporting the killing of two Tajik residents by the Uzbek border guards.
The Uzbek border guards installed (haphazardly threw around, rather) many antipersonnel mines along the borderlines with Tajikistan in 1999-2000 to prevent breakthroughs of the Islamic Movement of Uzbekistan fighters into Uzbekistan via Tajikistan.
According to the Centre for Mine Issues of Tajikistan, over 160 individuals suffered from landmines, of whom 76 died, including children and women between 1999 and 2011. Uzbek citizens, too, suffer from the land mines their government installed; no data is available on the Uzbek casualties.
Fergana international information agency.