Cotton Campaign urges signing petition damning Uzbekistan for forced labour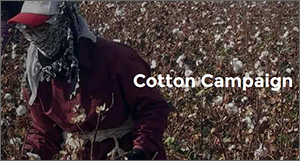 The Cotton Campaign coalition urges everyone to sign a petition that condemns
Uzbekistan
for using forced labour and retaliation against those who document human rights violations. Cotton Campaign believes the World Bank and International Labour Organisation must not ignore violations on the part of the Uzbek authorities.
The coalition reminds the World Bank invests some USD500m in the agriculture sector of Uzbekistan. "One of the main cultivated crops there is cotton, which is collected by millions of Uzbek citizens who are forced [to do so] by their own government, which controls one of the largest state systems of forced labour in the world," the coalition maintains.
The coalition representatives remind the World Bank assumed an unprecedented responsibility to void the contract with the Uzbek government in case forced labour is identified in the projects it finances; the ILO agreed to administer monitoring of those projects.
"Independent observers in the civil society have already documented numerous cases of mobilising people against their will to work in the agriculture sector. In order to force observers into silence, the authoritarian government of Uzbekistan organises violent assaults on said civil society representatives, subjecting them to ungrounded searches, beatings, detentions, surveillance and intimidation," Cotton Campaign maintains.
The Coalition asks every willing party to help "tell the World Bank and ILO the importance of shedding complete light on the scales of use of forced labour by the Uzbek government and condemning violent actions targeting observers [representing] the civil society!"
Below is the full text of the petition posted online, which may be signed and submitted electronically.
"To ILO Director-General Guy Ryder and World Bank President Jim Yong Kim:
"Reports from civil society monitors in Uzbekistan show that the state-led forced labor system of cotton production is unchanged, and the Uzbek government is using forced labor in 2015 nationwide, including in World Bank project areas. "Officials are threatening expulsion from school, termination of employment, and loss of social benefits to coerce people to pick cotton. These threats make clear that coercion is the recruitment practice in use, despite the government's contractual commitment to ensure no forced labor in World Bank project areas.
"The Uzbek government is also using fear, intimidation and physical violence to prevent monitors from documenting forced labor. Uzbek officials have undertaken a harsh crackdown on civil society monitors in the last several weeks, subjecting them to body cavity searches, beatings, detention, surveillance and intimidation.
"I stand with the missions of the ILO and World Bank for decent work and the end of poverty, and I stand with the people of Uzbekistan speaking out against human rights violation. Thus, I urge you to report the Uzbek government's use of forced labor and to publicly denounce reprisals against Uzbek citizens reporting the abuse."
Fergana international information agency.