US envoy rejects "possible military base" in Turkmenistan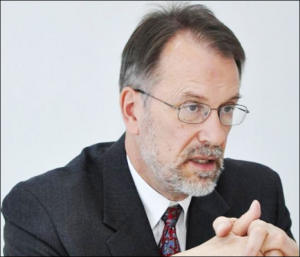 US Ambassador to Turkmenistan Allan Mustard
The
Arzuw NEWS
online portal closely linked with the Turkmen regime has published an exclusive interview with US Ambassador Extraordinary and Plenipotentiary Allan Mustard. The ambassador rejected all rumours lately circulated in mass media outlets about the possible establishment of a US military base in the territory of Turkmenistan. For instance, Russia's
Nezavisimaya Gazeta
wrote a US base could be established in Mary to guarantee the security of borders as well as the TAPI gas pipeline currently under construction.
The US envoy, however, did confirm that Washington supports the TAPI project: "We support and encourage Turkmenistan's efforts in Afghanistan to construct roads, railroads, the TAPI gas pipeline, and electricity grids that Turkmenistan is building there—these are very important factors in stabilising Afghanistan," Ambassador Mustard told the interview. Responding to a question on the possible dislocation of a military base, the ambassador said, "This is simply ridiculous. As you know, we are decreasing the number of servicemen in Afghanistan. Would we [then] increase military [presence] in neighbouring countries? This [would be] illogical to say the least."
Speaking about Turkmen-US cooperation in the field of security in the region, the US envoy said training of servicemen is the core component: the Americans organise "various kinds of training events for [Turkmen] state bodies. For instance, we teach them English so they are able to more efficiently cooperate with foreign security bodies." The ambassador has also reminded that the US provided assistance in the construction of three border checkpoints, at which cargo are inspected and give hope to intercept illicit drugs, weapons, and other illegal goods.
Ambassador Mustard was very diplomatic when discussing the US position on IS and Taliban, which have become active in northern Afghanistan near the Turkmen borders.
"The US government is determined to eliminate ISIS," he said. "As far as the Taliban are concerned, yes, this is a problem, obviously. But we do not see the [amount of] threat in Taliban that [we see] in ISIS. The short-term forecast is this—the region will stabilise and we will eliminate extremists."
Touching upon further perspectives of the Turkmen-US cooperation, the ambassador said the US would continue teaching select parties English, but would not participate in any major construction.
"We have a big desire to support respected President Berdymuhammedov's initiatives in teaching English to cadres. We, perhaps, will not be involved in the construction of buildings, bridges, railways, since other countries are already doing so here."
Fergana international information agency.