Bishkek doctors ordered to stop asking for government assistance or be fired
Physicians and doctors in the Kyrgyz capital have been prohibited to directly appeal to the authorities with requests to provide additional financing on top of funds already allocated for healthcare. Kubanychbek Kulbatyrov, chief of the healthcare department of Bishkek, issued a decree to that effect, 24.kg reports. In a statement faxed to all healthcare and prophylaxis institutions in Bishkek, he points out that doctors are prohibited from appealing to the president, the Jogorku Kenesh, the government, the city-hall, the Bishkek city parliament as well as the City Financial Administration with requests to provide additional funds. The violators will face disciplinary penalty; maximum such penalty would be firing from job.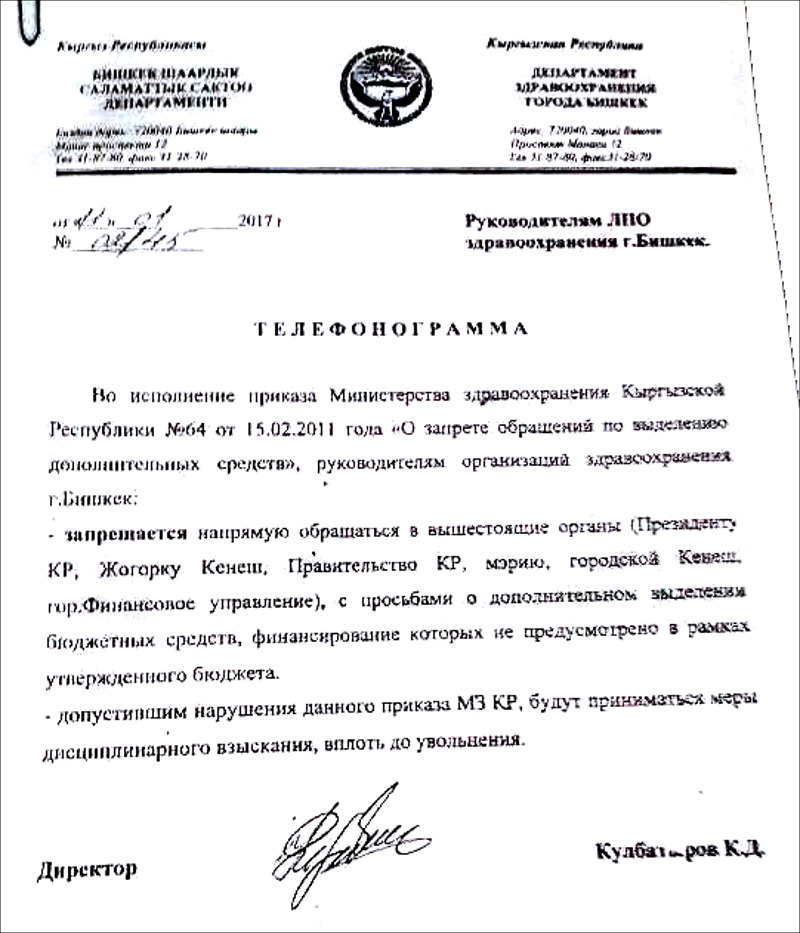 Bishkek healthcare department chief's decree

Last week, the ministry of healthcare prohibited the doctors from speaking to press with prior coordination with the healthcare ministry's press service. The medics are recommended to refrain from discussing and commenting on the healthcare system in mass media or social networks. In addition to these instructions, employees of healthcare institutions are tasked with rationally using the Internet during their office hours.
Fergana international information agency.