First book by new Uzbek president Shavkat Mirziyoyev published
Uzbek President Shavkat Mirziyoyev published his first book, which bears a lengthy title: "Critical analysis, strict discipline and order as well as personal responsibility must a daily rule of every official's daily activities."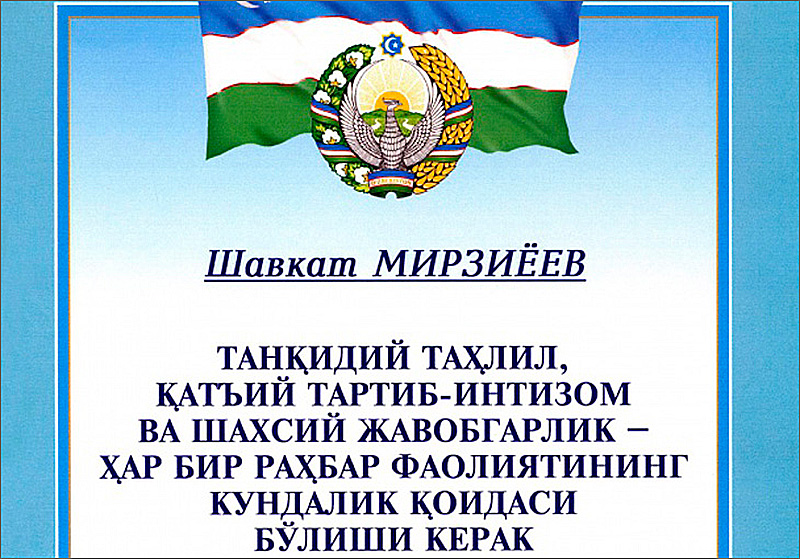 A speech President Mirziyoyev made at an extended session of the Cabinet of Ministers on the results of socio-economic development in Uzbekistan in 2016 and highest priority aspects of economic programmes in 2017 was taken as the basis for the book in question.
"The book provides an assessment of socio-economic development in Uzbekistan in 2016 based on deep analysis and critical approach. Existing unresolved problems and reserved unused to their full capacity have been thoroughly analysed in detail. [The book also] offers proposals on key strategic tasks and highest priorities in terms of economic and social programmes of the country for 2017," Uzdaily.Uz continues.
The largest book publisher in the country, Uzbekiston Publishing House, issued Mirziyoyev's book. The publisher used to print books by the previous president, Islam Karimov. That said, the publisher did not think twice before using the existing template for the new book's cover.
Apparently the "Critical analysis…" is only the first book penned by author Shavkat Mirziyoyev among many other to follow. Further, said book and those to be published later will most likely be included in secondary schools and university curricula.
Fergana international information agency.