Human Rights Watch: Turkmenistan: Upcoming Presidential Poll Lacks Rights Protections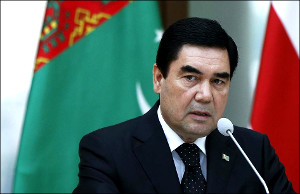 (Berlin) –
Turkmenistan
's appalling human rights record undermines the possibility of a free and fair presidential election on February 12, 2017,
Human Rights Watch
said. The election climate in Turkmenistan denies its citizens the ability to choose their president freely or enjoy freedom of expression or access to information.
"Turkmenistan has never held a free and fair election and this one is no exception," said Hugh Williamson, Europe and Central Asia director at Human Rights Watch. "Genuine elections are impossible where authorities maintain tight control over all aspects of public life, violating basic rights relating to freedom of the media, expression, and civil society."
The incumbent president, Gurbanguly Berdymukhamedov, 59, who has served for two terms, is running for re-election as one of nine candidates. Constitutional changes in September 2016, widely seen as allowing him to remain president for life, removed restrictions on the president's age, and extended the presidential term from five to seven years.
The election will be the first with candidates from parties other than the ruling party, the Democratic Party of Turkmenistan, following a 2012 law that permitted new parties to form. Durdygylych Orazov, Mary region party chairman, is running from the Agrarian Party, and Bekmyrat Atalyev, a member of parliament, is running from the Party of Industrialists and Entrepreneurs.
However, the government's near total control over public life, including the media, public meetings, and access to information, means that there is nowhere close to a level playing field between candidates, Human Rights Watch said. Voters cannot express their views about all candidates in an open manner and without fear.
Berdymukhamedov, a former health minister, was appointed acting president after the death of former president Saparmamed Niyazov in December 2006 and the arrest of the constitutionally-designated successor, Ovezgeldy Atayev. Under Niyazov's increasingly tyrannical 20-year rule, Turkmenistan had become one of the world's most closed and repressive regimes. Berdymukhamedov won overwhelming victories in tightly controlled, pro forma elections in 2007 and 2012.
The Turkmenistan government denies freedoms of association, expression, and religion. The country is utterly closed to all independent scrutiny and has no political freedom. The few activists who try to promote human rights under the radar face a constant threat of government reprisal. Authorities often impose arbitrary travel bans on activists and relatives of exiled dissidents and others, and deny entry to foreign journalists, human rights defenders, and rights monitors. For years the government has waged a campaign to force people to dismantle their privately owned satellite dishes and subscribe to government-controlled cable television packages that cut them off entirely from alternative sources of information. In May 2016, the European Union postponed ratification of its Partnership and Cooperation Agreement with Turkmenistan over human rights concerns.
Berdymukhamedov has made a few modest steps to reverse some of Niyazov's damaging policies, such as restoring compulsory education to 12 years from 9, and allowing internet access to the public – under Niyazov only government agencies, diplomatic posts, and offices of international companies were allowed internet access, but other apparent reforms have not been fully implemented. For example, changes made to the 2010 Criminal Code and the 2011 Criminal Procedural Code to provide fundamental due process guarantees, such as the right to an attorney of choice, are often not allowed in practice.
Under Berdymukhamedov, authorities have continued some of the most serious abuses of the Niyazov government, such as imprisoning perceived opponents, and have ignored repeated calls by international partners to address those abuses. Berdymukhamedov has also introduced several highly restrictive laws inconsistent with international standards, such as to place undue restrictions on the registration and operation of public organizations, restrict public gatherings, and control access to information, including through the internet. The Berdymukhamedov government has failed to provide information about dozens of people arrested in the late 1990s and early 2000s, many of them on politically motivated charges, who have disappeared in the Turkmen prison system.
On February 1, the Organization for Security and Co-operation in Europe's Office for Democratic Institutions and Human Rights (ODIHR) sent a limited observation mission to Turkmenistan to review election laws and their administration, and the media environment for the election. The UN Human Rights Committee will review Turkmenistan's compliance with its civil and political rights obligations at its upcoming session in March.
"The people of Turkmenistan have never been given the opportunity to elect leaders genuinely of their own choosing, who could possibly end some of most inhuman aspects of tyranny such as enforced disappearances and holding political prisoners," Williamson said. "Turkmenistan's international partners should press the government to end these practices and carry out urgently needed and long-overdue reforms to ensure at least minimal respect for human rights."
Fergana international information agency.