Turkmenistan: Berdymuhammedov remains president, enjoying nearly 100% vote
Current Turkmen President Gurbanguly Berdymuhammedov will remain in office following the latest elections. Accrording to tallies the Central Elections Commission has provided, 97.69% of all participating voters cast their votes in favour of candidate Berdymuhammedov on February 12.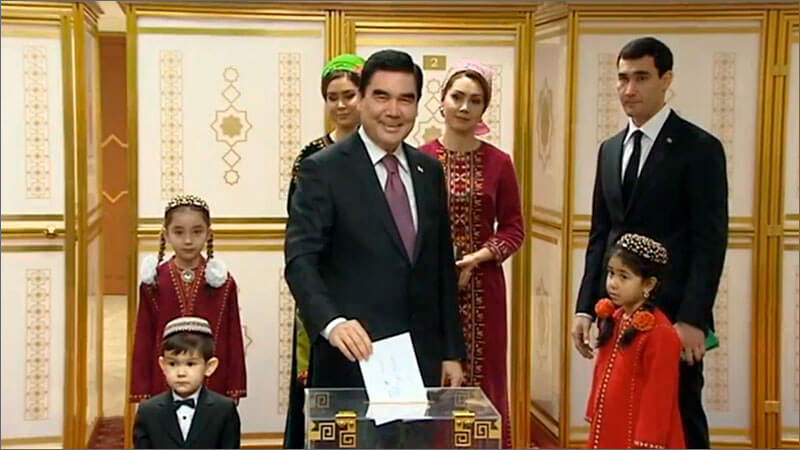 Gurbanguly Berdymuhammedo and his family at a polling station on February 12. Photo by Hronika Turkmenistana

The TASS agency cites CEC Chairman Gulmurat Myradov, who said over 3.22m Turkmen citizens are registered as voters, of whom 3.07m, i.e. 97.27%, participated during the elections last Sunday.
This cycle of elections shows that Berdymuhammedov is demonstrating ever more impressive results of his authoritarian rule. Specifically, during the first elections on February 11, 2007, soon after Saparmurat Niyazov unexpectedly died, he enjoyed 89.23% votes, and five people were appointed as his competitors. During the second elections on February 12, 2012, Berdymuhammedov was announced winner with reportedly 97.14% of voters supporting him; seven other individuals in the process only for the sake of making the electoral process look legitimate received between 0.16% and 1.07% of votes. During the latest round of elections, eight individuals were chosen for the role of the current president's competitors. Therefore, perhaps one should be expecting at least nine individuals "running against" Berdymuhammedov in 2024, while the main candidate will get all the votes, well, at least 99.7%. Provided elections are still exercised by that time in Turkmenistan.
Background: On the eve of these elections, the Civic Solidarity Group Regarding the Presidential Elections in Turkmenistan urged the global community to not recognize the presidential "elections" in Turkmenistan as free, transparent, fair, competitive, and in accordance with international standards. The group urges the heads of democratic states to refuse to congratulate "the newly elected" President of Turkmenistan Berdymukhamedov on his electoral win. This must be a serious signal to him and his entourage that the open manipulation of national legislation, repression and intimidation of society, and the imitation of competitive elections in a pre-election campaign cannot be accepted as a method to hold on to power.
Fergana international information agency.