Rights advocates urge reminding Atambayev about Kyrgyzstan's obligations in human rights
Kyrgyz President Almazbek Atambayev left for Brussels on February 15; he will travel to Germany thereafter. According to the Kyrgyz head of state's press service, President Atambayev will hold bilateral talks with the Belgian monarch, King Philipp, followed by meetings with Donald Tusk, the chairman of the European Union, Jean-Claude Junker, the chairman of the European Commission as well as Federica Mogherini, the High Representative for Foreign Affairs and Security Policies of the European Union.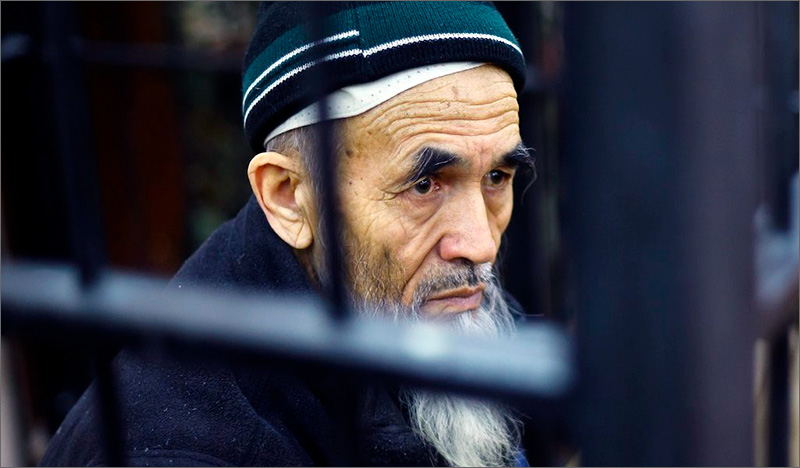 Azimjan Askarov. Photo by Anadolu

The meeting will result in the signing of several documents, including two agreements: 30m euros will be allocated to Kyrgyzstan as part of a programme on supremacy of law and another 70m euros will be allocated as part of a programme on complex development of agricultural areas, the Vecherniy Bishkek newspaper reports.
Atambayev's visit is taking place shortly after the UN bodies and EU agencies have expressed deep concerns regarding "serious shortcomings" in the judicial system of Kyrgyzstan in connection with the recent judicial verdict issued in the retrial of Azimjan Askarov. The retrial court left his life-long imprisonment conviction in force even though the UN Committee for Human Rights issued a decree, stating Mr Askarov had to be released immediately.
A Kyrgyz court ruled to uphold human rights defender Azimjan Askarov's life sentence, after what was a mock retrial falling short of basic fair-trial requirements and running against United Nations recommendations to release him, the Observatory for the Protection of Human Rights Defenders (an FIDH-OMCT partnership) reported today.
The Chuy Regional Court, which retried the case of Azimjan Askarov in appeal from October 4, 2016 to January 24, 2017, upheld the 2010 verdict which had been issued in a trial marred by a flawed investigation, bias, lack of substantial evidence and allegations of torture and the absence of investigation thereof, the Observatory maintains. In its decision published in April 2016, the UN Human Rights Committee requested the authorities to release Azimjan Askarov and quash his conviction. Neither of the recommendations were brought into effect, the authors remind.
Moreover, the Chuy Regional Court itself, by refusing to hear some defence witnesses, restricting access to the courtroom, failing to investigate credible allegations of torture and ignoring acts of pressure and intimidation targeting defence witnesses and lawyers, failed to guarantee Askarov's right to a fair trial in accordance with international human rights standards.
According to OMCT Secretary General Gerald Staberock, "Kyrgyzstan has also made a complete mockery of its international human rights obligations. If this country wants to be a European trading partner it has to be clear to it that it has to behave very differently."
The watchdog reminds that President Atambayev is scheduled to meet with three European Union (EU) leaders mentioned above to discuss a new Agreement on Partnership and Cooperation and a Memorandum of Understanding on a 13 million euros worth project aimed at supporting judicial reform in Kyrgyzstan.
"The arbitrary character of Azimjam Askarov's detention is unquestionable. EU leaders must take the opportunity of President Atambayev's visit to remind him of Kyrgyzstan's human rights commitments and the need to demonstrate at the highest level the will to support a genuine judicial reform. Support to judicial reform is meaningless if the right to a fair trial is not guaranteed and justice remains vulnerable to political interference," FIDH Honorary President Souhayr Belhassen maintains.
For more information and articles on Azimjan Askarov's case, please see a dedicated rubric on Fergana.
Fergana international information agency.