Russian president Vladimir Putin to visit Central Asia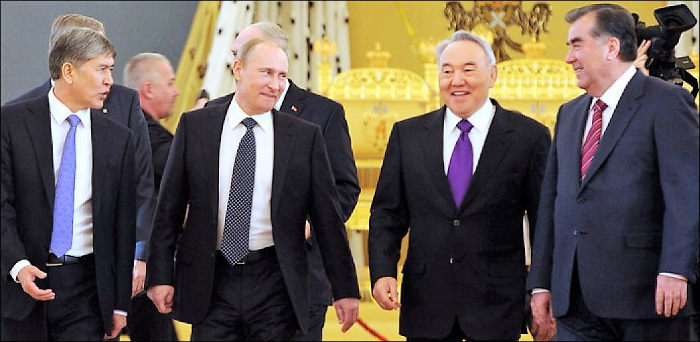 Russian President Vladimir Putin will visit Kazakhstan, Tajikistan and Kyrgyzstan on February 27-28; the visit is timed to celebrate the 25th anniversary of diplomatic relations with said countries, RIA Novosti reports, citing Yuriy Ushakov, the Russian president's aide for foreign policy.
Putin will visit Kazakhstan and meet Kazakh President Nursultan Nazarbayev in Almaty on February 27. Aide Ushakov reminds about six personal meetings and 12 telephonic conversations between the two leaders. According to Mr Ushakov, the two presidents will discuss bilateral cooperation and international problems, including the situation in Syria. Mr Ushakov also noted that the two heads of state will maintain intensive contacts during 2017, including those as part of multilateral meetings.
The Russian leader will then depart for Dushanbe to hold talks with Tajik President Emomali Rakhmon. Mr Ushakov says the Russian and Tajik presidents will discuss the Russian military base No. 201 in Tajikistan, which is "an important factor for maintaining stability and security in Central Asia." The signing of a packet of seven documents is expected upon the completion of talks, including intergovernmental agreements on environment protection, atomic energy, labour and employment as well as a joint statement by the presidents that will document principles of ally relationships between the two countries.
"Our president will decorate the Tajik president with the Aleksandr Nevsky medal for significant personal contribution to the strengthening of strategic partnership and alliance between our countries," Ushakov has said.
Putin will then travel to Kyrgyzstan and meet President Almazbek Atambayev on February 28. The heads of state will discuss the development and perspectives of bilateral relations, the process of joint projects as well as cooperation as part of the Eurasian Economic Union.
Fergana international information agency.