Ukraine: Late Islam Karimov's relative speaks of tortures in Uzbekistan in court
A Kiev district court ruled to extend the arrest term of Akbarali Abdullayev, the 33-year-old nephew of late Islam Karimov's wife, up to a year, Ozodlik Radio reports, citing RFE/RL's Ukrainian service. Mr Abdullayev has told Judge Natalya Vasilyeva he fears being extradited to Uzbekistan because of imminent tortures and death there.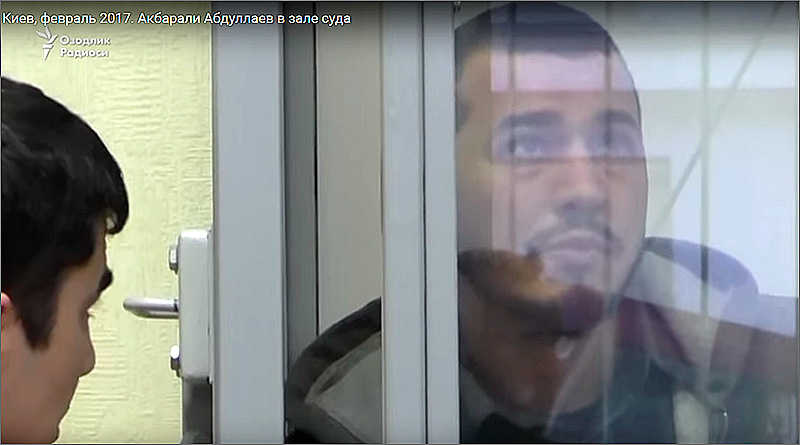 Akbarali Abdullayev (r) in a courtroom in Kiev

Judge Vasilyeva said she ruled so in connection with a criminal investigation launched against Mr Abdullayev by the Prosecutor General's office of Uzbekistan and an extradition request from Tashkent. She reminded that all members of the CIS, including Uzbekistan and Ukraine, assumed obligations to provide mutual legal assistance in accordance with the Minsk Agreement signed in 1993.
Prosecutor Marina Kim informed the court that the Kiev city prosecutor's office is studying a request received from the Uzbek colleagues to extradite Mr Abdullayev. According to her, an examination of the request revealed that Mr Abdullayev has not been held criminally liable in Ukraine, and he is healthy enough to be arrested and/or extradited. Due to the fact the Kiev city prosecutor's office cannot guarantee that Mr Abdullayev will remain in Ukraine in case he is released using his Dominican passport, and given the gravity of the launched criminal investigation, the prosecutor asked the judge to leave his arrest order in force.
Aleksandr Fedorenko, Mr Abdullayev's lawyer, told the court violations of his client's rights took place during his arrest at the Kiev airport on January 14: the documents of arrest were filled incorrectly and the lawyer was summoned half-hour later. Lawyer Fedorenko also said Mr Abdullayev has already served a prison term for similar crimes in Uzbekistan, and the Ukrainian legislation does not provide for arrest when a suspect is charged with what his client is facing.
"A round-the-clock arrest is [sufficient]. There are no complications. This is practiced. I have cases when people with far more serious charges and extradition requests are in such condition," the lawyer has said.
Mr Abdullayev has confirmed that the latest criminal investigation is launched based on old charges and that he has already served a two-and-a-half-year prison term. He was subjected to violent tortures and beatings during investigation. Mr Abdullayev is certain that he will die if he is extradited to Uzbekistan. He has also said he wants to apply for political asylum, but being placed under arrest would deprive him of such an opportunity. Therefore he requested the judge rules to confine him to house arrest.
Background: Akbarali Abdullayev was first arrested in Uzbekistan in 2013. The Uzbek prosecutors launched a criminal investigation, pressing charges of embezzlement, tax evasion and graft.
He was arrested in Kiev on January 14, when he arrived at the Kiev airport with passports issued by the Dominican Republic and Uzbekistan. He was announced wanted by the Interpol for allegedly embezzling over USD91m, not declaring some USD200m and 271,602 euros, legalisation of monies obtained in criminal ways amounting to 77.4m Swiss franks and 200,000 Latvian lats. The office of the Prosecutor General of Uzbekistan sent an extradition request early February.
Fergana international information agency.