Uzbek currency plunges 10% in March
Since early March 2017, the national currency of Uzbekistan, the soum, has lost 10 per cent of its value: On February 27, the exchange rate was 7,020 soums for the dollar; 7,850 soums on March 14. That said, this is the black-market rate, which impacts the entire economy and prices in in the country. The population of Uzbekistan uses this exchange rate, not that of the Central Bank, for any transactions involving the hard currency.
Any increase in the black-market exchange rate entails rise in goods and services costs. For instance, a kilogramme of "cherry" tomatoes in a Tashkent supermarket was priced at 58,490 soums, 60,990 soums and 67,490 soums on February 21, March 1 and, respectively. The country of origin of these tomatoes was not provided on price tags.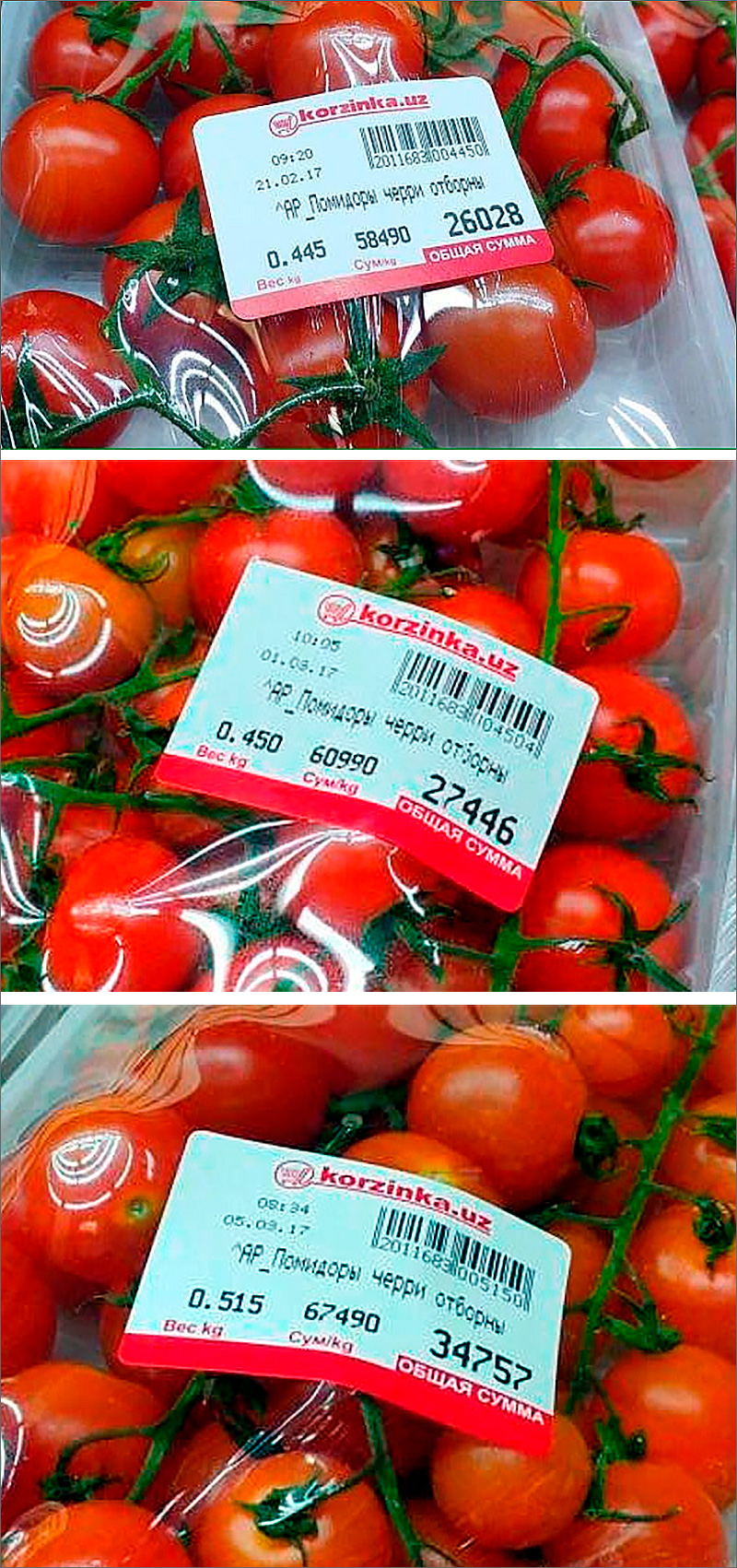 The price change dynamics in a Tashkent supermarket. Photo by Fergana

There is a similar trend observed in regards with other staples and products whether they are produced domestically or imported. Prices for goods sold in the Abu Sakhiy market are directly linked with the current exchange rate at the time of transaction.
This abrupt hike—the second one at that—of the US currency has resulted in changes of the official exchange rate as well. While it was adding 14-15 soums every week over the last several years, 47 and change has been added every seven days since February 21.
Against this backdrop, however, the soum-rouble exchange rate has not changed much. On February 28 the purchase rate was 98-110 soums and sale rate was 115 soums per the rouble; the respective rates were 100-110 soums and120 soums on March 14, 2017.
The new Uzbek government has introduced a new banknote worth 10,000 soums as of March 10, 2017. The new bill is replacing 5,000 soums banknote as the largest bill, which was only introduced in July 2013. The minimum salary is 149,775 soums and pensioner benefit is 292.940 soums as of October 1, 2016.
Fergana international information agency.