Dushanbe police brutally disperse education exhibition participants
The police department of the Tajik capital has forcefully cancelled the International Education Exhibition scheduled for April 1-2 in Dushanbe and April 3 in Hojand. Police officers barged into the exhibition facility during the opening ceremony and started to harshly disperse the participants and visitors.
Manzura Jurayeva, the head of the Multikid education centre and the exhibit organiser, wrote on her Facebook page that all necessary permissions were obtained to hold this event dedicated to the Year of the Youth. However, it was sabotaged in "a dastardly manner."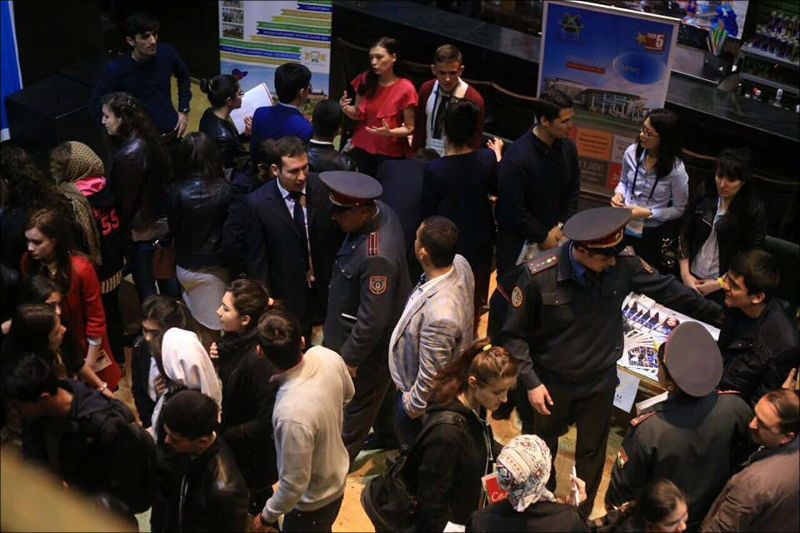 Police officers dispersing visitors of the International Education Exhibition in Dushanbe on April 1

Children and their parents were rudely driven out of the facility. Ms Jurayeva told Asia-Plus, police would add, "Do you know they are fraudsters? They send to Syria, not Europe." Ms Jurayeva maintains that the exhibition was sabotaged "thanks to efforts of personally the minister of education and culture, who believes that education abroad is his private business."
According to her, representatives of many universities, colleges, schools and language centres in the UK, USA, Germany, the Cyprus, Poland, Belarus, China, South Korea, the Czech Republic and Malaysia were invited to the exhibition. The event plans included presentations by foreign country universities and entrance exams for over 500 high school graduates in Dushanbe and Hojand.
"The recent graduates and their parents have arrived from all parts of Tajikistan for this exhibition; foreign guests were driven out and video and photo materials were destroyed," Ms Jurayeva says.
In her Facebook post, Ms Jurayeva apologised to all interested and involved parties. Among them was the assistance to the president for social affairs, deputy mayor of Dushanbe, deputy chairman of the committee for youth affairs, deputy foreign affairs minister, US Ambassador Elizabeth Millard, UK Ambassador Hugh Philpot and assistant Turkish ambassador Emre Polat.
"All these people have known and trusted Multikid over the course of many years. That is why they decided to come to us. But the minister [of education and culture, Nuriddin Said,] decided that only he has the right to decide who can work in the field of education abroad. It would be better if he would apply the same zeal to do something useful for the system [of education]. But he continues to work despite the fact the head of state himself called his ministry one of the most corrupt ones, and the public have been speaking out about this official's competence and decency.
"I would never agree to be a scapegoat at least because my organisation has been greatly benefiting my country since 1999. I will not allow them to label my organisation "unreliable," "dubious" and more of "criminal" only because the minister has "partners" who'll benefit him more and he announces Multikid illegal. And who am I now – a criminal or patriot, who was awarded by the president for achievements in the field of education? I am still hopeful that we live in a lawful country and this incident will result in a big social matter," Ms Jurayeva writes.
The education exhibition in question was the third one. The previous two took place without any incidents. The exhibition provided an opportunity to obtain complete and reliable information on advantages of education systems abroad and helped students to choose a university. Applicants could be consulted free of charge, take language tests and apply for scholarships provided by participant universities at the exhibit.
The ministry of internal affairs has not commented on its employees' actions as of this writing.
Fergana international information agency.