Terrorist act in Sankt-Petersburg: What we know about "suspect"
A blast rocked the underground train system of Sankt-Petersburg on April 3; the explosion is said to be a terrorist act. Investigators say 14 people lost their lives and 50 others were wounded. A handmade explosive device stuffed with shrapnel has exploded in a train car.
The press reported on various names and images of several alleged criminals. Latest information suggests Akbarjon Jalilov is the main suspect. His head was severed and perhaps this fact gives secret services grounds to consider him a suicide bomber.
The alleged bomber's body has not been officially identified as of this writing. Only the Kyrgyz mass media are labeling him "suspect" and even "perpetrator of the terrorist act," while the Russian officials are not providing any names.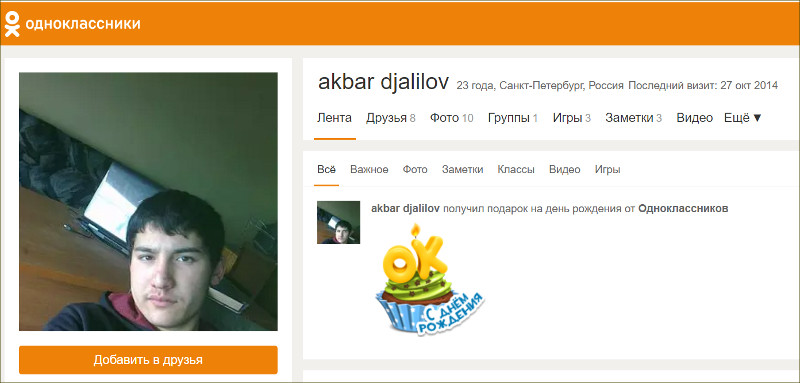 The suspect's personal page on the Odnoklassniki social network has not been updated since October 2014

Akbarjon Djalilov, born in 1995, was a native of the city of Osh in Kyrgyzstan although he was a Russian citizen. He has lived in Sankt-Petersburg for more than six years; he has changed his passport several times and held a passport for traveling abroad. He used to drive a Daewoo Nexia and lived in the Komendantskiy Boulevard district.
He worked as a cook at a sushi-bar in 2015; his coworkers have not seen him since and one of them has allegedly "heard that Akbarjon left for [South] Korea."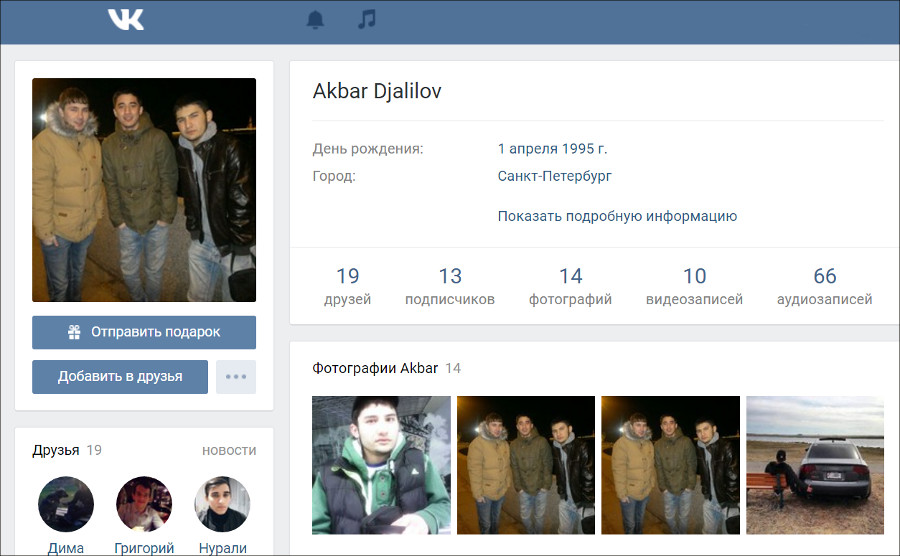 The main suspect's personal page on the VKontakte social network has not been updated since May 2014

The embassy of Kyrgyzstan in Moscow stated the Russian side has not addressed Bishkek in regards with Djalilov. However, the identity of the suicide bomber who has committed an explosion in the Sankt-Petersburg underground train was one of the main topics discussed between Russian FM Sergey Lavrov and Kyrgyz FM Erlan Abdyldayev.
The parents of the presumed perpetrator were interrogated already on April 3 at the Osh Regional Administration of the National Security State Committee of Kyrgyzstan, the Jalilovs family's kin told the 24.kg information agency. According to this website, the family lives in the Amir-Timur District in Osh.
"Akbarjon left for Russia with his parents in 2011. His parents later returned, while Jalilov Junior remained [there] to work. He visited Osh on March 3," the relatives say.
According to Nastoyashcheye Vremya, Jalilov never held the Kyrgyz citizenship, but obtained the Russian citizenship at the general consulate of Russia in Osh in 2011 based on the application of his father, a Russian citizen. At the time, the head of family has been in Russia for a decade and has been living there, while the mother and two younger siblings lived in Osh.
According to information Fergana has, Jalilov used to attend the Pravyy Bereg single sports sports club in Sankt-Petersburg several years ago.
"He used go here three years ago, and that is all I now aobut him," a "friend" on VKontakte has told.
Fergana international information agency.