Kazakh leader orders Latin-based alphabet by 2018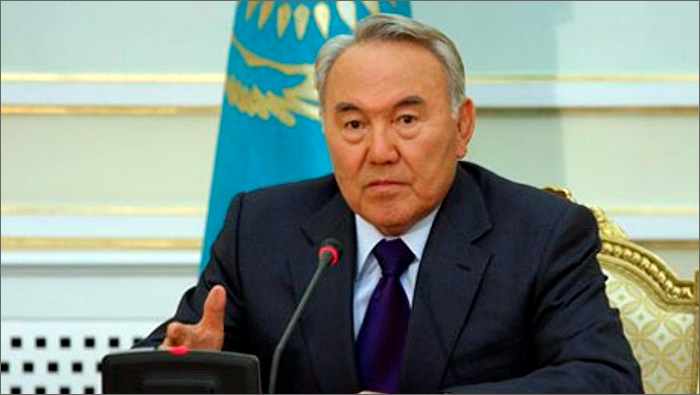 Kazakh President
Nursultan Nazarbayev
has decreed to draft a project of the Kazakh alphabet based on the Latin letters before the year 2017 ends. Later in 2018, experts in pertinent and relevant fields must master the new alphabet to prepare textbooks for secondary schools. Organisational and methodical measures are to be undertaken over the next two years. The president himself has informed of all this in his April 12 article entitled «Болашаққа бағдар: рухани жаңғыру» [Looking into the future: Spiritual revival].
As political scientist Yerlan Karin told Tengrinews.kz, the president is now advancing a more precise plan to use the Latin alphabet as the basis for the Kazakh alphabet, which he has discussed already back in 2004.
"Transition to the Latin script is not just a change of letters, but it is a civilizational choice for us. Doing this buttresses our yearning toward being part of the open world and aiming at progress. This [project] is linked with the earlier announced ideas of modernising the education system in Kazakhstan," the political scientist interpreted Nazarbayev's thoughts in the article.
At this time, the Kazakh alphabet is based on the Cyrillic script.
Background: Nazarbayev proposed considering the matter of transitioning the Kazakh alphabet onto the Latin alphabet in his speech before the Assembly of the People of Kazakhstan in Astana in 2006. At the time, Nazarbayev cited the fact the Latin script is dominant in the communications field as the reason for his proposal. Experts at the ministry of education prepared a linguistic justification for the necessity to transition onto the Latin script along with the economic aspects of the Latin-based Kazakh alphabet. According to some experts, at least 15 years are necessary to transition the Kazakh alphabet from Cyrillic to Latin taking into account transcribing all fiction, non-fiction, scientific and other literature. Analysts also maintain that fears among the local Russian-speaking population that the Russian language is being pushed out do not hold water.
Fergana international information agency.