Gulmurod Khalimov killed – a former Tajikistan special operation forces commander joined ISIL, The Times informs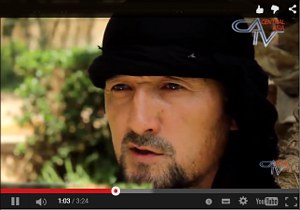 Гулмурод Халимов
Gulmurod Khalimov - a former Tajikistan special operation forces commander, known as al-Tajiki has been killed last week as a result of air strike in the west of Mosul,
The Times
informed.
According to the edition Khalimov, who was a war minister of so-called Islamic State (as IS, ISIS, ISIL or Daesh is banned in Russia as a terrorist organisation) and "has been responsible for planning the jihadists' defence of Mosul and was behind hundreds of car bombings against the coalition".
Tajikistan authorities have not yet obtained any evidence supporting the death of Gulmurod Khalimov. A Press-Service of the Ministry of Interior of Tajikistan confirmed no any information had been received about him for the last month, Ozodi Radio informs.
Earlier some media informed about Gulmurod Khalimov had been wounded or killed, but every time Islamic State supporters refuted them providing with his pictures or videos posted online. As The Times notes the loss of such a commander as Khalimov is crucial, as he was trained by the special services of the US and has served in armed forced of Tajikistan for many years.
40 years old Gulmurod Khalimov, a former Tajikistan special operation forces commander joined IS in April 2015. A criminal case was opened to prosecute a fugitive commander in Tajikistan according to "high treason", "involvement in criminal gang", "illegal involvement in armed conflicts or military operations on territory of other states" clauses. Tajikistan authorities issued an international search request for him. The US listed Gulmurod Khalimov along with 35 other individuals and organisations linked to the Islamic State as international terrorists and sanctioned them. And in 2016 the US government put a $3 million bounty on Khalimov's head.
Fergana international information agency.