In Turkmenistan food prices increased by 18-50 percent since beginning of year
Food prices have risen 18 percent or more in Turkmenistan since the beginning of this year. For some products the price rise reaches 50 percent, the Chronicle of Turkmenistan reports. So, the price for Russian produced vegetable oil rose from 7 to 8-9 manats (1 US dollar = 3.5 Turkmen manats), on granulated sugar - from 4.8 to 5.8 manats. At the same time, according to sources of the news agency, you cannot buy sugar in every store; often one person can buy not more than two kilograms of sugar. Imported flour – from Russia and Kazakhstan - went up from 3.4 to 4 manats. The prices for imported canned food have grown. For example, the price of canned olives rose from 7 to 9 manats.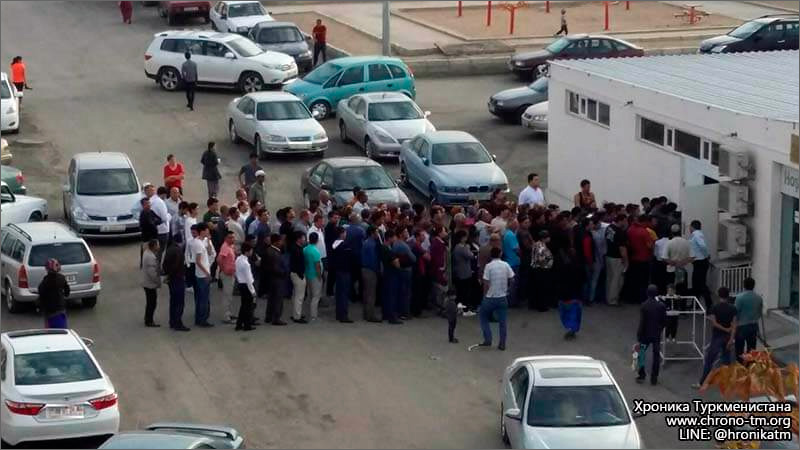 Vegetables and fruits also significantly have risen in price. If at the beginning of the year potatoes cost 2 manats per kilogram, now - 3.8 manats, bananas rose from 8 to 12 manats, apples from Iran - from 10 to 15 manats.
Moreover, from time to time, there is a shortage of certain types of products in Turkmenistan. For example, chicken legs and eggs. Many types of cheese have completely disappeared, and those that are on sale significantly increased in price. So, imported from Russia Gouda cheese rose in price from 32 to 50 manats per kilogram.
Along with price hikes a cost of Turkmen manat is falling. The price of the American currency on the 'black market' was fixed at 7.2-7.5 manat per dollar with the official rate of 3.5 manats for 1 dollar. Judging by the recent statements of President Gurbanguly Berdimuhamedov, the authorities will try to keep the rate.
It should be noted that the Turkmen authorities have sharply limited the amount of cash that can be withdrawn from their accounts both inside the country and abroad since February this year. According to the new rules of Vnesheconombank of Turkmenistan, the amount of funds cashed abroad should not exceed 250 US dollars, which, according to the official exchange rate of the Central Bank, is 875 Turkmen manats. For Gold cards, the limit is 300 US dollar (1050 Turkmen manats). This led to the fact that entrepreneurs purchasing products abroad, reduced the volume of purchases which affected the choice and prices of imported products in the country's markets.
The minimum wage in Turkmenistan is 650 manats (185 US dollars at the official rate or 118 US dollars at the rate of the 'black market').
Fergana international information agency.