Uzbekistan: Authorities' shooting frightened Andijan residents
On 20 April, frightened residents heard shots in Andijan, a town in the east of Uzbekistan, where on 13 May 2005 hundreds of people had been killed on the central square of Babur. The representatives of the ministry for emergency situations of the country reported to the Ozodlik correspondent (Uzbek service of Radio Liberty) that there are no grounds for panic as the shots were sounded during the military exercises to prevent the threats of terrorism and extremism. No answer is given why the population was not warned about the beginning of military exercises.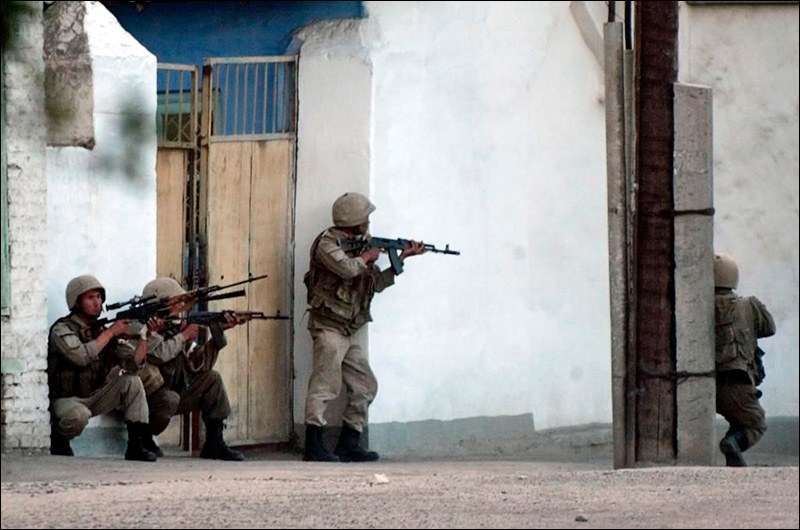 Andijan on 13 May 2005. Photo by AFP

'On 20 April 2017 at approximately 17 00-17:30 from the side of the building of the prison in Andijan there were two pistol shots and two machine gun shots. My house is not far from that place. My neighbours and I stood in the street at that moment. Everyone was frightened when they heard the sounds of the shots,' said the Andijan resident asking not to disclose his name.
'We were told that terrorists had been caught in the city. And someone else said that inmates had escaped from prison,' said another Andijan resident.
According to Andijan human rights activist Saidzhakhon Zainabiddinov, ahead of 13 May local authorities 'are beginning to enforce control and conduct military exercises. I also served in the army. In fact, the authorities do not warn not only local residents, but also the soldiers themselves about planned exercises. Many of them learn combat readiness this way. Therefore, it is understandable why the authorities did not warn local residents that military exercises will be held in Andijan.'
It should be noted that incidents occurring periodically in different parts of Uzbekistan with the use of weapons are often called 'military exercises'. For example, seven or eight explosions thundered in Andijan on 1 August 2016, an hour and a half later a helicopter flew in the direction of the special unit's garrison. The city was agitated, there were various rumours: according to one, there was an explosion of ammunition in the garrison due to negligence or overheating in hot weather; according to others - there was a fire in the petrol tank of the helicopter from which ammunition detonated. And the next day in the morning, the authorities reported that anti-terrorist tactical exercises were held in the territory of military unit 45605 in Andijan on 1 August 2016.
Such activities were endured, for example, by residents of the Tashkent, Bukhara, Namangan, Fergana and Jizak regions of the republic. And the local authorities had not warned people about the planned exercises, while shots and explosions invariably aroused fear and panic among the local population.