Alleged sponsor of St. Petersburg terror act named
An alleged sponsor of the terrorist act in the metro of St. Petersburg is the field commander Abu Salah al-Uzbeki (Abu Saloh). According to the State Committee for National Security (GKNB) of Kyrgyzstan, his real name is Sirozhiddin Mukhtarov, reports Gazeta.ru.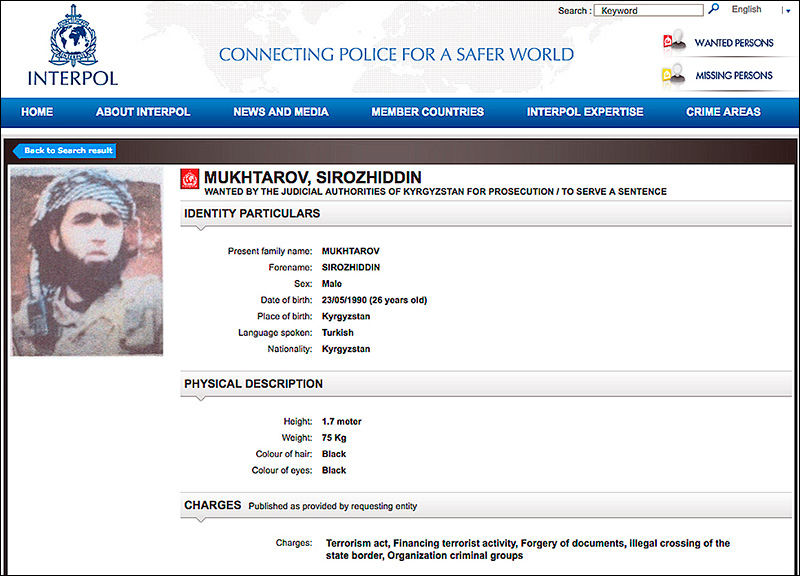 Interpol web-page screenshot

Mukhtarov was born in 1990 in the village of Kashgar-Kyshtak in the Kara-Suu district of the Osh region of Kyrgyzstan. Being ethnic Uighur he indicated himself as 'Uzbek' in the passport. He is a leader of 'Katiba Tawhid wal-Jihad' ('Monotheism and Jihad' battalion). In 2016, Interpol issued a 'red notice' against him on charges of organising a terrorist attack at the Chinese embassy in Bishkek, when another ethnic Uighur suicide bomber had rammed a diplomatic mission gate by his vehicle, had driven into its territory and had activated a high-powered improvised explosive device installed in a car.
The Mukhtarov file on the Interpol website says that he is a citizen of Kyrgyzstan and is suspected of terrorist attacks, the financing of terrorism, forgery of documents, illegal crossing of the border and the organisation of a criminal group.
On 3 April, an explosion in the metro of St. Petersburg killed 15 people and injured more than 50 people. The explosion was qualified as a terrorist attack; the investigation believes that the bomb was blown up by a suicide bomber, a 22-year-old Russian citizen, a native of Kyrgyzstan Akbarjon Jalilov. A version that Akbarjon Jalilov was not going to become a suicide bomber, but was used as a 'live bomb,' is considered by the investigators. Ten people were detained, including brothers Abror and Akram Azimov, following the case of the St. Petersburg metro terror act. On 20 April, Akbarjon Jalilov and the Azimovs were deprived of Russian citizenship: the Ministry of Internal Affairs established that their fathers had given false information, when applying for citizenship. On the same day, a head of the FSB of Russia Alexander Bortnikov said that the sponsor of the St. Petersburg terrorist attack was 'practically established,' but did not name him. 'Gazeta.ru' was informed by a source in the law enforcement agencies of Russia about the name of the suspect.