Kyrgyzstan: Landslide descends over residential houses in Osh oblast leaving dead
At 07:20 am on 29 April, a landslide measured of 1 million cubic meters descends in the village of Ayu in the Osh region of Kyrgyzstan leaving at least four dead, the Ministry of Emergencies of Kyrgyzstan reports.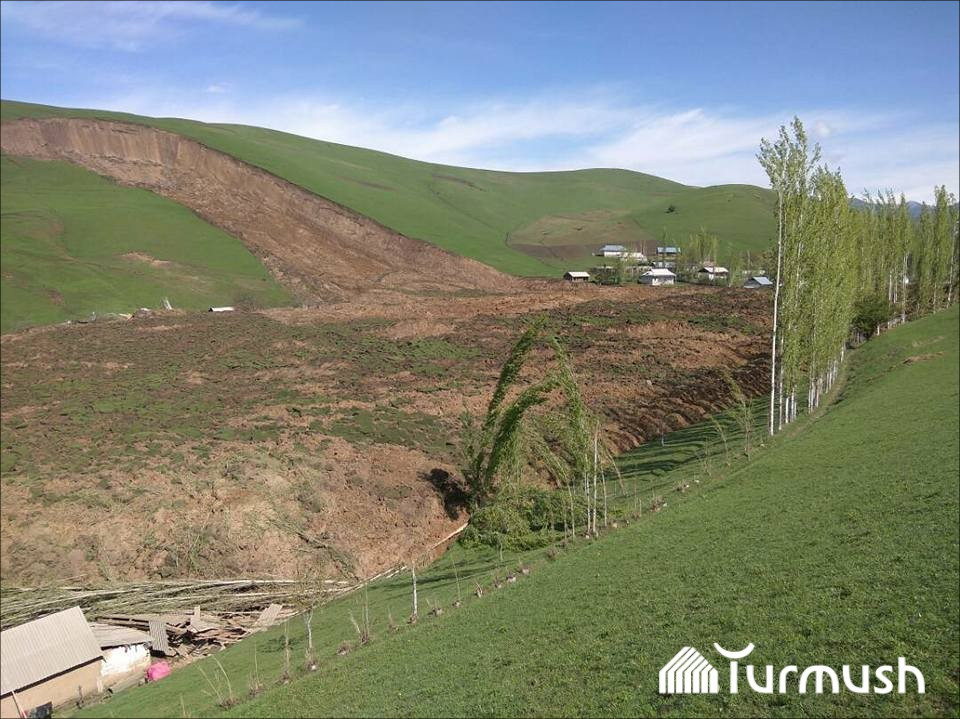 According to preliminary data, the landslide buries seven houses with more than two dozens of people. 'There were 24 people left under the landslide. In March of this year, the Ministry of Emergency Situations handed over instructions for resettlement to safer areas to local residents due to houses had been in a dangerous zone,' Sputnik quotes the press service of the Ministry of Emergency Situations of Kyrgyzstan.
More than 100 rescuers participate in the on-site search and rescue work.
With the reference to the Ministry of Health of the republic, psychiatrists, traumatic surgeons, surgeons, doctors of family medicine centres left for Uzgen District, 24.kg reports.
'There is a danger that the landslide will descend again. Therefore, doctors provide assistance to the local population. Many lose consciousness, they are distressed and shocked. They have been provided with psychological assistance,' the Ministry of Health noted.
Landslides are a constant threat to villagers living in the foothills of Kyrgyzstan.
According to the information policy department of the president's office, in connection with the tragedy they intend to declare a day of mourning in the republic.
President Almazbek Atambayev instructed Minister of Emergency Situations to report hourly about the progress of search and rescue operations. Also, the president visited the state centre of personification of the population, where he appealed to the citizens of the country. The speech of the head of state was in Kyrgyz language. 'Fergana' translated the speech of the president and offers readers to get acquainted with it.
'Unfortunately, a landslide came down again in Kyrgyzstan today. A dozen houses have collapsed in a small village in the Uzgen District in seven of which people are said to have lived... The saddest thing is that two or three days ago they had been visited and offered to move, but they would not have listened to anyone, they have said they would not move. Our compatriots did not want to move... I'm sorry now that today we came to the centre of manufacturing biometric passports, looked at new and old passports... And of course we have good desires - soon, in the next 3-4 years the number of Kyrgyz will reach 7 millions - but at such times you are sorry... I grew up in the village too, and I understand those who do not want to move - in the summer there is a ready pasture, I would not want to move. Well, you're yourself the master or mistress of the house and do not want to move, but what is the fault of the children? Is life more valuable than a child's life? If the children are healthy, they would be able to sell your cattle, become workers... Maybe they could even become president... I would turn to my compatriots - life of cattle and property should not be put above children. There, the decision that they will not move [to another place] was probably taken by the elders - the father or the mother, maybe the grandfather or the grandmother... But the children suffer, too. We must also think about children a little. If the mind is intact, then there will be cattle. I was born into a poor family too. Mama did not regret about the only ram. I remember how my father and mother sacrificed the only ram, when I returned having finished my studies... If the children are healthy, if there is health, everything else will be reached, my dear compatriots... We should at least a little be afraid of God... God must be afraid of... If you do not want to live, if you value the cattle more than yourself, then what is the children's fault? What is the fault of other people who lived in this house? Those families, who were crushed by a landslide, are they now taking their property and cattle with them? Some of them we still cannot dig out from under the landslide. They cannot get even 8 meters of shroud, but not that property... Because we cannot find the remains of some... Therefore, in such difficult times one must fear God and be patient. Therefore, I appeal to those who knowingly do not move, be at least afraid of the lives of their children and loved ones. Fear of God...'
Ulugbek Babakulov