Kyrgyzstan: Expectedly OSCE Centre in Bishkek transformed into Programme Office
On 27 April 2017, the new mandate of the OSCE Office in Bishkek was approved at a regular meeting of the Permanent Council of the Organisation for Security and Cooperation in Europe (OSCE) in Vienna. Earlier, official Bishkek began the process of changing the mandate in September last year.
'In accordance with the decision, the OSCE Centre in Bishkek has been transformed into the OSCE Programme Office in Bishkek from 1 May 2017,' the official website of the Kyrgyz Foreign Ministry said.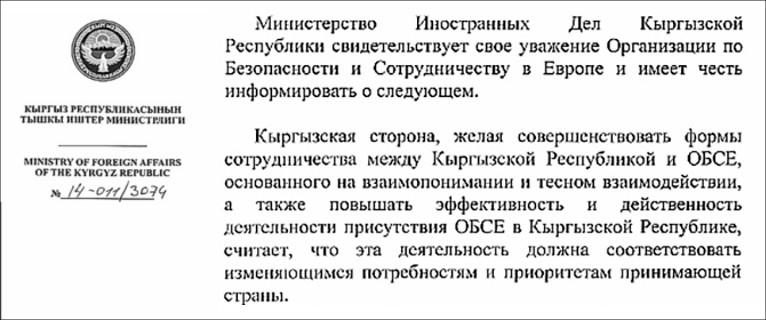 Translated into clear language, this means that the status of the presence of a reputable international organisation in Kyrgyzstan has been significantly reduced.
The Kyrgyz Foreign Ministry diplomatically explained its decision to change the status by the desire to 'improve the forms of cooperation between the Kyrgyz Republic and the OSCE based on mutual understanding and close interaction, and to enhance the efficiency and effectiveness of the OSCE presence in the Kyrgyz Republic, believes that this activity must correspond to changing needs and priorities of the host country.'
However, it is obvious that the reason for the decision by the Kyrgyz authorities to change the status of the Organisation's presence in this country was the speech of one of the former leaders of the Uzbek community of Kyrgyzstan Kadyrzhan Batyrov in the annual meeting of the OSCE Office in Warsaw causing the scandal and stir in Kyrgyzstan.
What is the difference between the Centre and the Programme Office? According to the expert on this topic interviewed by our edition, 'the difference is that the programme office does not monitor the situation in the country – political, economic, human rights or any other. The staff of the full-scale mission, meanwhile, prepares analytical materials for the delegations of all 57 OSCE member countries in Vienna, and the programme office does not write the analysis, while its projects are generally monitored / agreed with the Foreign Ministry.'