Tajikistan: Emergency situation in Ishkashim District bordering with Afghanistan
Over the past week, fighting between government forces and the Taliban militants has been going on in areas of the Afghan province of Badakhshan neighbouring with Tajikistan. Staff of international organisations was evacuated from there. And in Ishkashim District of the Republic of Tajikistan on 3 May a state of emergency was declared and the regime of protecting the state border was strengthened. Fergana was informed about it by its own sources in the State Border Protection Committee (KOGG) of Tajikistan.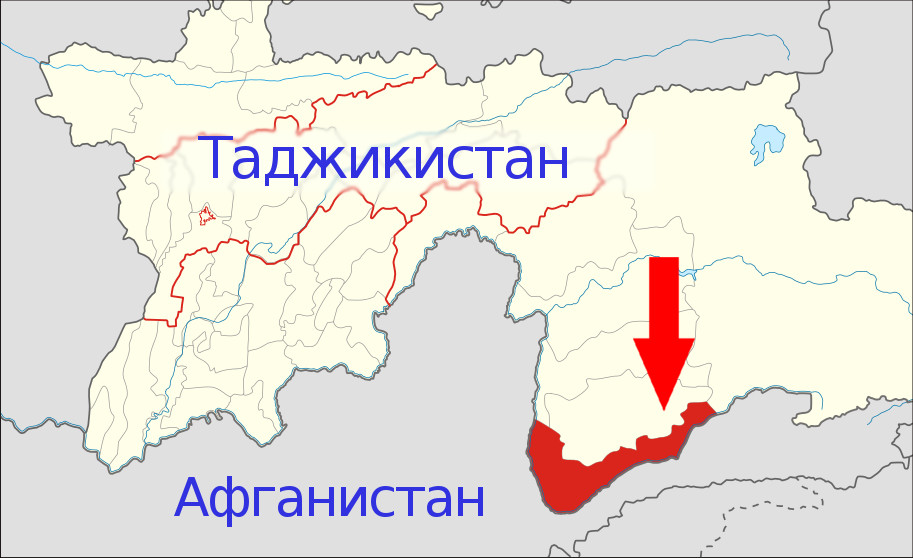 The arrow and red colour on the map marks Ishkashim District of Tajikistan

What is currently happening in the Afghan Badakhshan and how had the Taliban appeared there, an employee of one of the international organisations, who asked to remain anonymous, responded the questions of 'Fergana':
'The Taliban are in Wurduj District (see Wurduj) since 2015, and they did not go anywhere from here. Among the militants are many local residents. Today, Wurduj is out of the Afghanistan government control, as Yamganis. Government units have stationed in Zebak District (see Zebak), but the Taliban from Wurduj captured Zebak on 1 May 2017 and reached the Khushpak village, which is only 15 km from Tajikistan. In the evening of 2 May 2017 they were thrown back to the village of Bozgir. Currently, just three districts located nearby are in their hands - Yamgan, Wurduj and Zebak. Zebak is a strategically important object for the Taliban, which is at the border with Pakistan. No casualties among civilians there.
The Taliban are in 35 kilometres from the Tajik Ishkashim at present. I would not dramatise the situation in Tajikistan, since the Taliban never violates another's border. For them, such a local armed conflict is a way of pressure on the government of Afghanistan.'
A resident of the Tajik Ishkashim, Sharif Safoyev in a conversation with a correspondent of Fergana, reported the following:
'During the fighting, a part of the frightened population of the Afghan Ishkashim left to the Shugnan district. I do not rule out the possibility of the emergence of refugees on the Tajik side, so we need to be ready to receive them. 7 wounded Afghan soldiers had already been brought to our central hospital in Ishkashim, one of them had died; another one had been directed for the operation in Khorog. It's safe on our side, despite a state of emergency declared. '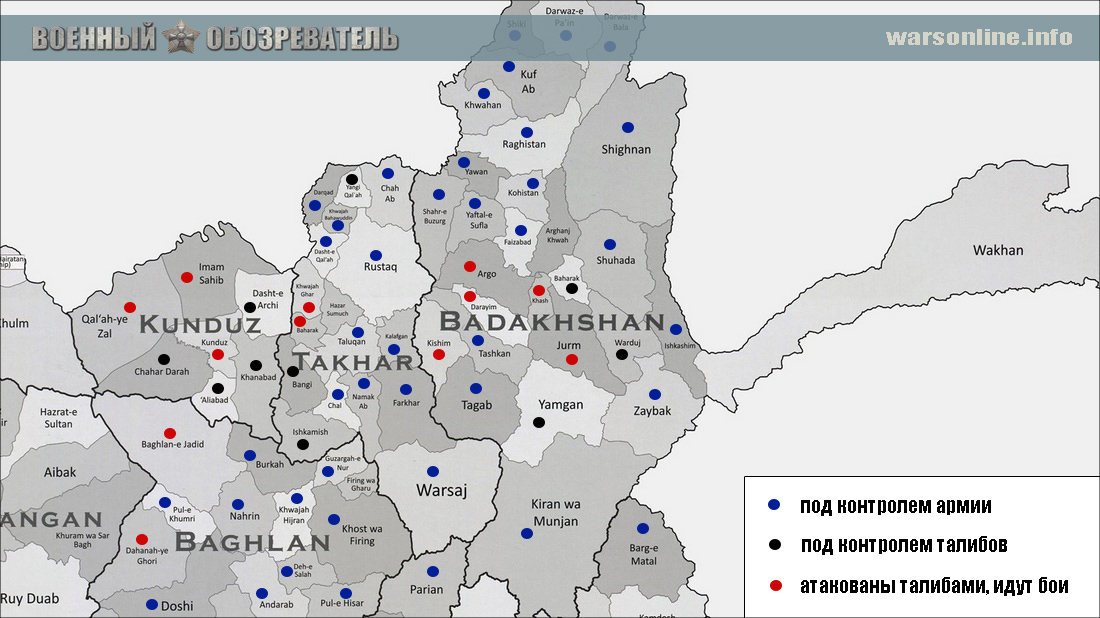 According to various sources, the Taliban controls 40 to 70 percent of the territory of Afghanistan: blue dots indicate government control, black dots – the Taliban control, red dots – attacked by the Taliban, ongoing combat.
Fergana was informed that the barracking for troops and border guards has been put into operation in Tajik Ishkashim.