Mass Media: Internal Affairs Ministry denied political asylum for 'Novaya Gazeta' journalist Ali Feruz
Uzbek citizen Hudoberdi Nurmatov (pseudonym - Ali Feruz), 'Novaya Gazeta' journalist, was refused political asylum by the Ministry of Internal Affairs of Russia and now he is obliged to leave Russian territory, RIA Novosti reports on 4 May with reference to a source in the law enforcement agencies.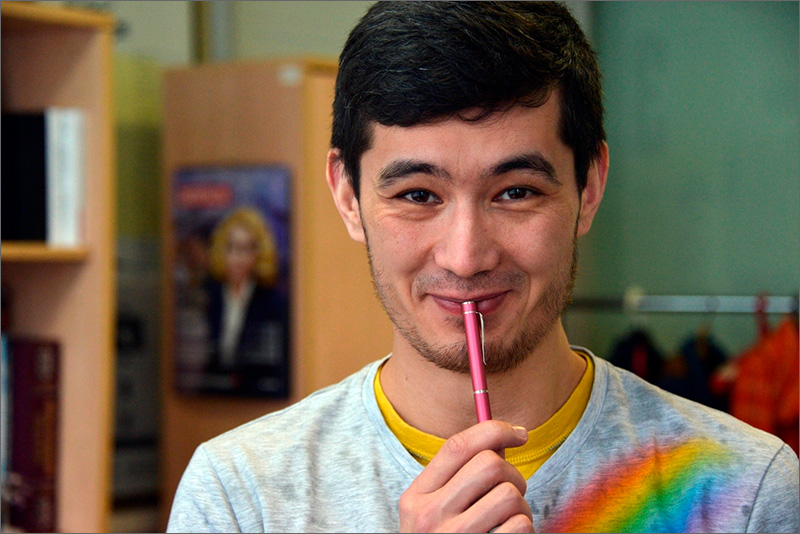 Ali Feruz (Hudoberdi Nurmatov). Photo by 'Novaya Gazeta'

'The Main Department for Migration of the Ministry of Internal Affairs of Russia took the final decision to deny temporary asylum in Russia to journalist 'Hudoberdi Nurmatov' (also known as Ali Feruz). His complaint about a similar decision of the Moscow Department of the Internal Affairs for the Moscow oblast has not been satisfied,' the source said, 'if Nurmatov does not leave Russia, he 'shall be detained and further deported.'
According to the RIA Novosti source, Alexei Nikitin, a Tambov resident who was sentenced for terrorism, said that in 2008 Mr Nurmatov had involved him into extremist activity. 'Mr Nurmatov distributed the printed edition of "Islamic aqidah on the sacred Koran and authentic Sunnah" of Muhammad Jamil Zeno, which had been declared as extremist material in 2015 by the decision of the Lefortovo District Court of Moscow in April 2015. He also engaged Mr Nikitin in the subsequent employment under the recruiters of the banned "Islamic State" group,' - explained the officer of the Ministry of Internal Affairs.
'Novaya Gazeta', meanwhile, reported to Interfax that it has not received official documents about the refusal of asylum for Ali Feruz.
'As for the refusal, we have not had any documents yet. But we will appeal against it in any case,' Nadezhda Prusenkova, the press secretary of the newspaper said. She noted that the newspaper 'does not cease to cooperate with the journalist,' and stressed that the information about the criminal case against Ali Feruz related to terrorist activities, does not correspond to reality, 'there are no claims of the law enforcement agencies against Ali.'
Earlier, Ali Feruz (Hudoberdi Nurmatov) - a citizen of Uzbekistan, grew up in Russia, in the Altai region; his mother, a Russian citizen, lives in Gorno-Altaisk town. After graduating school there Ali had returned to Uzbekistan, but in 2009 he was forced to flee: the Uzbek special services coerced him to cooperate. In Russia, he began working as a journalist and collaborating with human rights defenders. In 2012, his passport was stolen. In order to restore the document, Ali Feruz had to apply to the embassy in Moscow, and then return to his homeland. But since there is a danger of detention and imprisonment for Ali, he applied for asylum in Russia. The Ministry of Internal Affairs of Russia having checked his biography confirmed that Nurmatov has not committed any crime, has never been wanted and has never been suspected of extremism or sharing radical ideas.
Ali Feruz was detained on 16 March 2017 in Moscow by police officers. 'The official reason for his detention is violation of the migration legislation. Initially, we had thought that there could be a criminal case, but, thank God, those fears had not been confirmed, and everything had been just an administrative offense. No mention of terrorism or illegal link with terrorist organisations,' member of the Public Monitoring Commission (PSC) of Moscow Dmitry Piskunov stated to Fergana. Lawyer Maria Kurakina confirmed to Fergana that no charges related to extremist organisations were brought against her client Hudoberdi Nurmatov.
After the protocol on breaking rules of entry into Russia or stay in the country had been processed Ali Feruz was released. According to his lawyer, the protocol was processed illegally since Ali Feruz has legal grounds to be in Russia: he has a letter from the Ministry of Internal Affairs repealing the decision to refuse him temporary asylum. Prior to the new examination of his application for asylum Ali Feruz could legally reside on the territory of Russia.