Round-the-clock TV channel in Uzbekistan - direct broadcast promised
In Uzbekistan, round-the-clock national information and analytical TV and radio channel 'O'zbekiston 24' ('Uzbekistan 24') is under development, 'Gazeta.uz' reports on 4 May referring to sources in the government and the National Television and Radio Company (NTRK).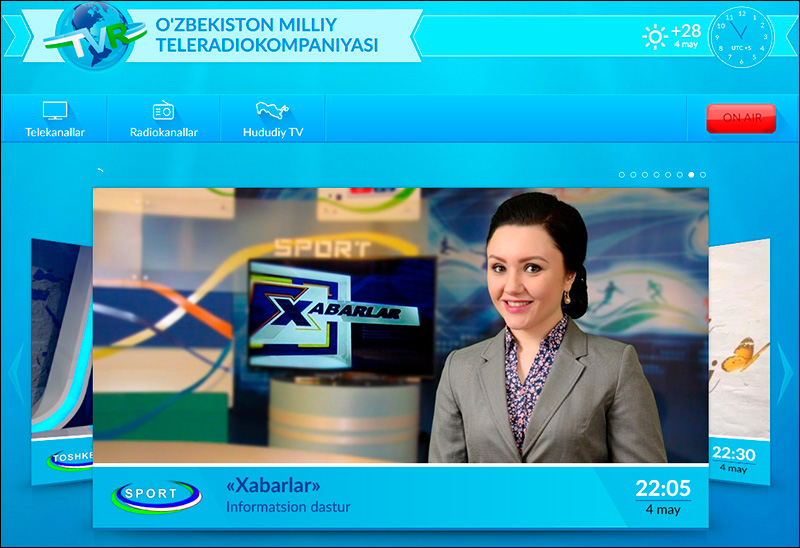 Screenshot of news on NTRK

The relevant decree was signed by Shavkat Mirziyoyev on 2 May. 'O'zbekiston 24' will have correspondent offices abroad and broadcast direct round-the-clock information throughout the country, working on the basis of 'a new format of news journalism.'
Among the main objectives of the new television and radio channel is 'timely and reliable coverage of events' in the country and abroad, 'their impartial and objective assessment,' aimed primarily at 'meeting the needs of the population for obtaining a high-quality information product and preventing the dissemination of unreliable, politically biased and other destructive information and ideology from the outside.'
'O'zbekiston 24' should distinguish itself by a 'high-quality information and analytical product' and promptly cover important events in the sphere of politics, security, economy, culture, science and sport, taking place in the country and abroad. The new TV and radio channel will start broadcasting in the coming months. Probably, its launch will coincide with the Independence Day of Uzbekistan which is celebrated on 1 September.
The same presidential decree abolishes the 'Diyor'television channel and the 'Toshkent' radio channel, their staff and frequencies will be acquired by a new channel. The number of staff of 'O'zbekiston 24' is limited to 251 people, including ten members of the management. The new TV and radio channel will be included in the public digital broadcast package in two formats (SD and HD), and its broadcast in HD format will be simultaneously conducted on the UzHD channel before the full transfer of television in the country to this format.
Earlier, on 30 March 2017, the Uzbek president speaking about television said that the time of 'ura-urachilik' (or 'jingoism') had passed, critical and analytical materials should appear on the television channels, and the main information programme 'Akhborot' ('News'), which is an analogue to the Soviet program 'Vremya'), must be reformed.
The National TV and Radio Company of Uzbekistan is the heir of the State TV and Radio of the Uzbek Soviet Republic. As of December 2016, the NTRK broadcasting network has consisted of 12 TV channels, 4 radio channels and 12 regional TV and radio companies.