UN High Commissioner for Human Rights was received by President of Uzbekistan
President of Uzbekistan Shavkat Mirziyoyev received United Nations High Commissioner for Human Rights Zeid Ra'ad Al Hussein on 10 May, the presidential press service reported.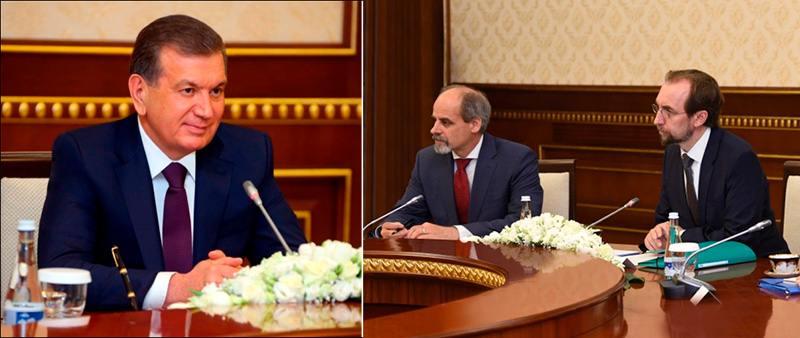 Shavkat Mirziyoyev and Zeid Raad Al Hussein (far right on photo). Photo by the press service of the President of Uzbekistan

It should be noted that this is the first official visit of UN High Commissioner for Human Rights to Uzbekistan.
At the beginning of the meeting, President Mirziyoyev emphasised the importance of developing and strengthening a constructive and open dialogue between Uzbekistan and UN institutions including OHCHR (Office of the High Commissioner for Human Rights).
The Uzbek president stressed that 'utmost protection of human rights is a priority of the ongoing deep structural reforms in Uzbekistan.'
The parties discussed promising areas of cooperation. Zayed Ra'ad Al Hussein reaffirmed OHCHR's readiness to develop long-term and systematic bilateral cooperation.
On the same day, the head of OHCHR met with the speaker of the Legislative Chamber of the Oliy Majlis (Parliament) of Uzbekistan Nurdinjon Ismailov. As Uzdaily.Uz reports, they exchanged views on the prospects for improving legislation in order to increase the social and political activity of women, strengthening the role of civil society institutions and the media.
Following the results of the visit on 11 May at 16:00 (14:00 Moscow time), UN High Commissioner will hold a press conference at the International Press Club in Tashkent.
On the first day of the visit, Zaid Ra'ad Al Hussein took part in the 'Human Rights and Mutual Cooperation' civil forum.
'Until now, Uzbek human rights activists could meet, talk, and report their problems to the top leadership of such a reputable organisation as the UN only privately; somewhere outside the country,' a representative of 'Ezgulik' the only registered in Uzbekistan human rights society Abdurakhman Tashanov explained to 'Ozodlik' (Uzbek service of Radio Liberty).'
'But today we met with UN High Commissioner for Human Rights in the building of the state institution - in the Palace of International Forums in Tashkent. The only thing that upset us is the limited time. But despite this, we managed to ask Mr Zeid Ra'ad Al Hussein to render legal assistance in the return of activists of civil society and representatives of the opposition to Uzbekistan, who were expelled to the West. Now it is dangerous for them to return to the country, so we asked the High Commissioner to help rehabilitate these people so that they could safely enter the country', Mr Tashanov said.
In addition, a human rights activist Marat Zakhidov told UN High Commissioner 'on the need to study the causes of the tragic events in Andijan.'