Telia Company opposes Kazakh authorities' demands for full access to subscribers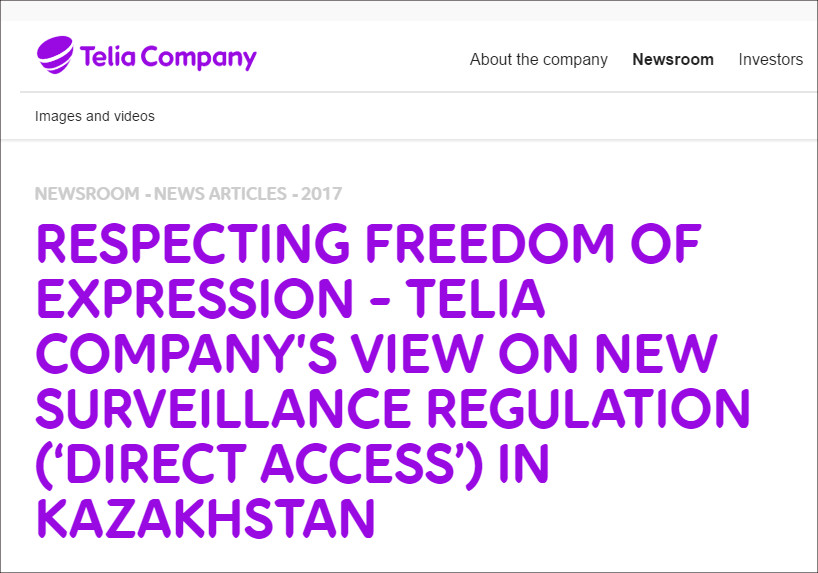 Scandinavian Telia Company telecommunications holding, owner of a major
Kazakhstan
mobile operator Kcell, has posted a
statement
on its website regarding the holding's position on the new technical regulations which would gain direct access to telecommunications systems through the 'SORM' system for the authorities.
The 'SORM' is a set of technical means and measures developed in Russia designed to conduct operational search activities in the networks of telephone, mobile and wireless communications and radio communications, should enter into force in Kazakhstan in February 2018. The law enforcement agencies will have access to all communication channels, and it will no longer be necessary to receive a court decision for wiretapping or receiving data when the regulations are effective.
Technical regulations of the 'General requirements for telecommunications equipment to ensure the conduct of operational search activities, the collection and storage of official information about subscribers' can be found in Russian at http://zan.gov.kz/#!/doc/109497/rus.
In turn, Telia Company writes in its statement:
'Telia Company's commitment is to respect freedom of expression, we therefore report on new legislation with potentially serious impacts on the freedom of expression of our customers.'
'Government's surveillance often serve legitimate purposes such as the protection of certain human rights, but they may also be problematic in that they could conflict with other human rights. Telia Company's commitment is to respect freedom of expression in telecommunications.'
'Direct-accesss-systems, such as SORM in Kazakhstan, allow government authorities real-time access to the networks of telecommunications operators without making specific or periodic demands to the operator. As articulated in our policy on freedom of expression, we advocate that governments should not have direct access to our networks and systems. Telia Company should retain operational and technical control.'
The
Guardian
had reported about leaked documents of the cybersecurity firm two years ago
telling
about its cooperation with governments of Azerbaijan, Bahrain, Kazakhstan, Russia, Saudi Arabia, UAE, and Uzbekistan, 'many of whom have been criticised by international human rights organisations for their aggressive surveillance of citizens, activists and journalists both domestically and abroad.'
As stated below, the mobile operator K'cell is holding discussions with the authorities on new requirements now.
Obviously, such a position of the telecommunications holding arose thanks to a joint investigation of the governments of Sweden, Finland, and journalists. They found a number of evidence that the Scandinavian telecommunications giant had cooperated with dictatorial regimes and had allowed the installation of special 'black boxes' on their equipment giving the authorities of these countries unrestricted access to track everybody, including political opponents, civil activists and journalists. But the main scandal was caused by the information about the payment of more than 320 million US dollars to a 'local partner' in Uzbekistan in exchange for a 3G license, frequencies and a series of phone numbers that had allowed to start work there under Islam Karimov.