Uzbekistan and China sign agreements worth $22 billion: 105 documents on gas, energy saving, agriculture
One hundred and five documents worth more than $22 billion were signed by Uzbekistan and China during the first state visit of President Shavkat Mirziyoyev to the People's Republic of China, Uzdaily.Uz reports citing Chairman of the State Committee for Investments of Uzbekistan Azim Ahmedhajayev.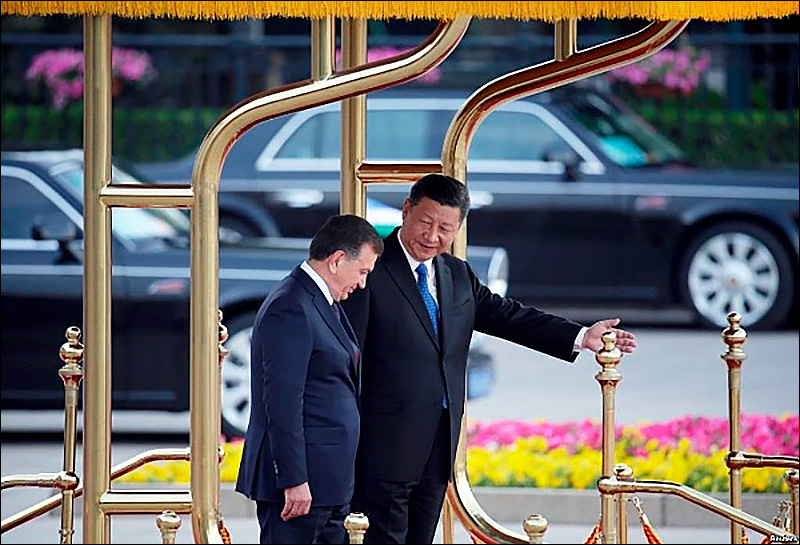 Shavkat Mirziyoyev and Xi Jinping. Photo from 'Jahon' site

The signing of the papers took place after the talks between Shavkat Mirziyoyev and Xi Jinping held on 12 May at first in a wide format; then in a narrow one. Greeting his guest, Xi Jinping noted that this year marks the 25th anniversary of the establishment of diplomatic relations between Uzbekistan and China, and said that the Chinese-Uzbek relations are entering a new stage, Gazeta.Uz reports.
Following the talks, the leaders of the two countries signed a joint statement, and a number of documents were signed in their presence. In particular, ten agreements in the oil and gas sector were signed for a total of more than $5 billion. Among them is a medium-term contract for the supply of natural gas to China, which is according to the interview of the Chair of the Uzbekneftegaz holding Alisher Sultanov to the Akhborot programme 'a very relevant project for energy saving, decreasing energy consuming.'
'Uzbekneftegaz' and the State Development Bank of China signed an agreement on co-financing the 'Shurtan production of synthetic liquid fuel based on purified methane' project worth $1.2 billion, as well as a framework agreement on co-financing investment projects in the oil and gas sector for $1 billion.
Deputy Minister of Agriculture and Water Resources of Uzbekistan Shavkat Khamrayev informed the UzA news agency of the signing of agreements with the Chinese partners on the development of hydropower in Uzbekistan, which will attract loans worth about $3 billion. Among the signed documents is an agreement on a project to modernise 299 pumping stations in Uzbekistan, which will deliver energy saving and uninterrupted water supply.
Among the signed documents are intergovernmental agreements on technical cooperation and international road transport; memorandums of understanding in the field of veterinary and quarantine of plant inspections; to stimulate cooperation between small business and private entrepreneurs; a plan for cooperation in inter-agency exchange in the field of agriculture for 2018-2020 and others.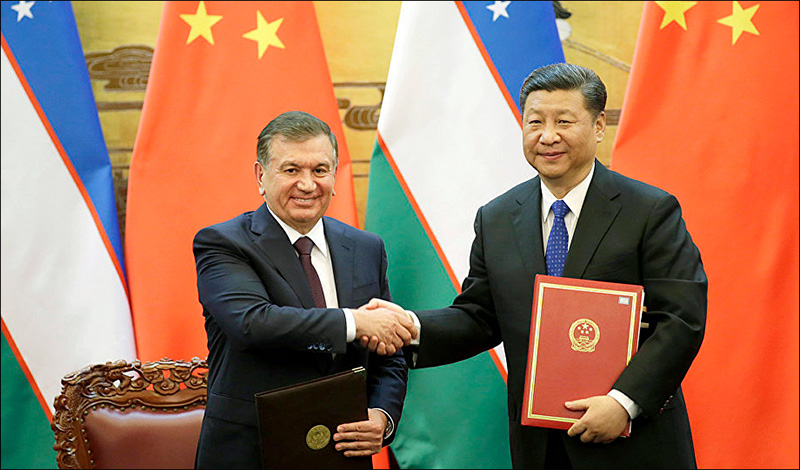 Shavkat Mirziyoyev and Xi Jinping. Photo by AP

As the press service of the Uzbek Foreign Ministry reports, China is one of the largest investors in the economy of Uzbekistan; about $7.8 billion investment on its account. In Uzbekistan there are more than 700 companies and enterprises with the participation of Chinese capital. A volume of mutual trade amounted to $4.2 billion at the end of 2016. There is a great demand in the Chinese market for textile, agricultural products, plastic products and much more manufactured in Uzbekistan.
After the state visit to China Shavkat Mirziyoyev took part in the opening ceremony of the two-day Belt and Road Initiative international forum on 14 May. The heads of state and government of about 30 countries, as well as representatives of almost 130 countries arrived to participate in the forum in Beijing. It is also attended by the UN Secretary-General, World Bank President, representatives of other reputable international organisations, scientists, entrepreneurs, in total - more than 1,200 people.