Russian businessman of Uzbek origin Alisher Usmanov addresses opposition leader Alexei Navalny in YouTube
'Your attempts to deceive me are the barking of Mos'ka on the Elephant. Pah, Alexey Navalny!' This is how the Russian businessman of an Uzbek descent Alisher Usmanov ends his video message to the well-known Russian opposition leader and the head of the Anti-Corruption Foundation ('FBK') Alexei Navalny.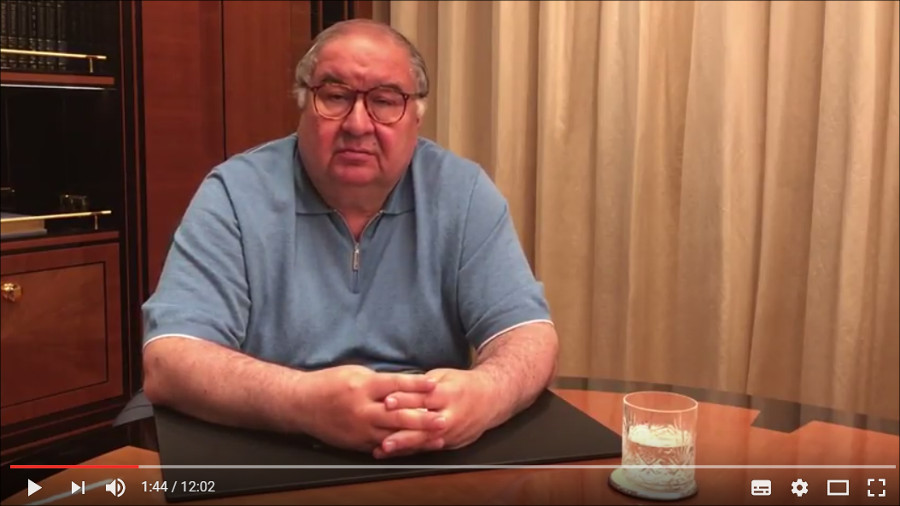 Screenshot of video in YouTube

The video appeared on the 'Alisher Usmanov' YouTube channel on Thursday in the morning. No other video has been posted by this account before.

Video address of Mr Usmanov in YouTube – in Russian
Mr Usmanov addresses his opponent unceremoniously his speech. It is full of conversational and emotional phrases. He calls Mr Navalny 'scoundrel,' 'criminal,' 'loser', and 'ignoramus,' inviting him to 'dig deeper' in his anti-corruption investigations and offers to apologise for slander.
Alisher Usmanov also unveils some way of doing business 'crushing' allegations in giving bribes: 'Bribes are not recorded by the Registration Chamber and not openly transferred from one account to another.'
He recommends Mr Navalny to read literature on real estate and land property, where information can be found on that sometimes 'people are paid not only for a deal, but also for not reaching a deal.' He calls the story about real estate the saga with many levels and three interest parties, 'I paid not for the deal, but for not allowing it to happen.'
Mr Usmanov adds that 'he paid one party with assets for losing profit, and rendering loans another party in return for giving up its land.' At the same time he emphasises that the registration documents are publicly available, but he is not going to unveil his commercial deals.
As a response the Russian billionaire tells about miners working on his plants 'earning half higher than across the region, and much more than in other regions of Russia.' He adds that it is incorrect to compare salaries in Russia and the US.
Alisher Usmanov also smashes the allegation that he served an imprisonment for committing rape in remote past stating that it had been a trumped up charge for 'theft of the Socialistic property' and 'bribing', and he 'had spent real six years in prison,' while later was 'fully rehabilitated by the Supreme Court acquitting him of all charges' in the past.
On 30 May 2017 in Moscow, the court will hear a case of the billionaire Alisher Usmanov against opposition leader Alexei Navalny on defending honour and dignity. According to the businessman, the opposition leader 'crossed the red line,' accusing him of corruption links, shadow schemes of making profit, and 'robbing' his own employees, allegedly paying them pennies.
Mr Usmanov's interests in court are defended by one of the most expensive and reputable lawyers in Russia Genryh Padva. Mr Usmanov did not claim material damage in his lawsuit demanding only to refute the widespread information.
'FBK' representatives responded that they would 'be happy' to meet with the billionaire's lawyers in court.