Iskander-M missile systems in Tajikistan for CIS antiterrorist exercises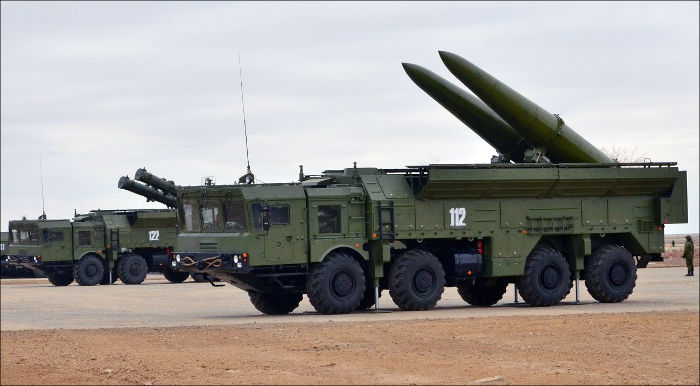 The first Iskander-M tactical missile systems (NATO reporting name SS-26 Stone) were deployed to Tajikistan, which will be used in joint anti-terrorist 'Dushanbe-Antiterror-2017' exercises, 'Sputnik-Tajikistan' reports with reference to the commander of the troops of the Central Military Circuit of Russia the General Colonel Vladimir Zarudnitsky. According to him, the planes of the Russian military-space forces An-124-100 'Ruslan' transported these systems.
According to General Zarudnitsky, the missilemen will perform a missile launch at the base camp of conditional terrorists in the mountains in the course of the exercise. Earlier, a flight of Su-24M front-line bombers from the South Ural 'Shagol' air base landed at the 'Aini' airfield in the suburbs of the capital of Tajikistan to participate in the exercise. And Mi-8 and Mi-24 helicopters from Novosibirsk arrived to the republic.
The active phase of the first international 'Dushanbe-Antiterror-2017' exercises conducted by the CIS Antiterrorist Centre with the involvement of the armed forces of the CIS countries, will be held from 30 May to 1 June on the territory of two military firing grounds of the 'Khatlon' garrison - 'Kharbmaydon' and 'Lyaur.'
Vladimir Zarudnitsky also told the media that the 201st Russian Military Base in Tajikistan has been reinforced by a large-capacity division armed with 'Uragan' volley fire rocket launcher systems. At the same time, the commander of the troops of the Central Military Circuit specified that the strength of the compound remains within the framework of international agreements, Interfax-AVN reports.
'Uragan' system is capable of causing effective fire damage at distances up to 35 km in conditions of complicated mountainous terrain, and they are characterised by high manoeuverability and rapid deployment.
The 201st Russian Military Base is Russia's largest military facility located beyond its borders. The base was formed on the basis of the 201st Motorised Rifle Division, which has been in the republic since Soviet time, and has about 6,500 troops stationed in garrisons in the cities of Dushanbe and Kurgan-Tube.
The base includes an air group of Mi-8 and Mi-24 helicopters based at the military 'Aini' airfield near Dushanbe. In accordance with the agreement signed in October 2012, the military base will stay in Tajikistan at least until 2042.
Fergana News Agency