Kyrgyzstan President declares new date of presidential elections
President of Kyrgyzstan Almazbek Atambayev, speaking on 29 May at a solemn event in honour of the 25th anniversary of the Armed Forces of the country, said that the election of the head of state will be held on 15 October 2017.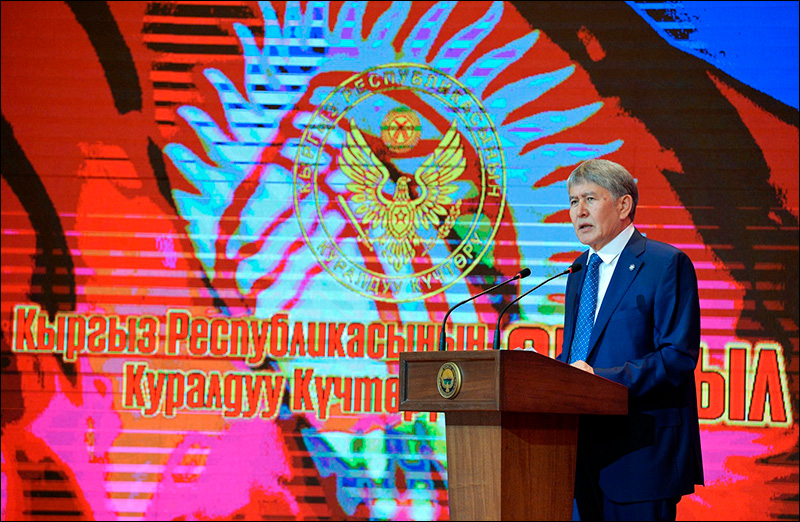 Almazbek Atambayev, 29 May 2017. Photo by the press service of the President of Kyrgyzstan

According to the text of the speech published by the presidential press service, President Atambayev spoke in Kyrgyz and Russian, reporting the date of the election only in Kyrgyz.
'Zanoza.kg' recalls that the parliament lately adopted amendments during the second reading to the Constitutional Law 'On Elections of the President and Members of the Jogorku Kenesh of the Kyrgyz Republic' (Parliament). Instead of the third Sunday of November, Members of Parliament proposed to register the third Sunday in October, that is, presidential elections will be scheduled for 15 October 2017. Parliament has not yet adopted amendments to the law in the third reading.
In February 2017, at the meeting of Almazbek Atambayev with Chair of the Central Commission for Elections and Referendums Nurzhan Shayldabekova, it was announced that the presidential elections will be held on 19 November 2017. According to the sources of Zanoza.kg, the change of the date for 15 October is due to the fact that earlier Members of Parliament did not take into account that the elections can be held in two rounds, in which case the incumbent Almazbek Atambayev would have been in office for longer than the deadline.