Updates on Jasurbek Ibragimov case: Six medical college students are interrogated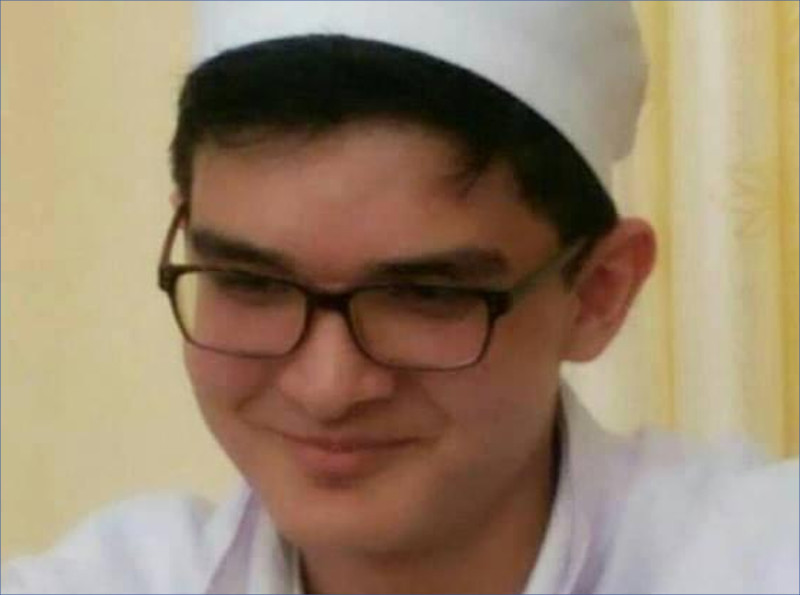 Jasurbek Ibragimov
The death of 18-year-old
Jasurbek Ibragimov
- a student of the Tashkent medical college on 1 June 2017 in hospital following series of difficult operations, presumably after being brutally beaten on 3 May by students of the same college - caused the unprecedented public outcry in
Uzbekistan
and criminal proceedings.
According to an unconfirmed information, the investigation on the attempted murder has only started on 31 May, the day before Jasurbek's death. And on 4 June, last Sunday, hundreds of Tashkent residents took to the streets at the rally demanding the authorities to bring those criminals trying to evade responsibility to justice.
The first press release of the Tashkent City Police has already stated that its Investigative Department has started criminal proceedings on 3 May against Islombek Tulaganov born in 1999 under such charges as "deliberate grave bodily injury, which caused the death of the victim."
Today, local media reported that the Tashkent police is interrogating five more Tashkent medical college students: names of second-years Ulmas, Timur, Begzod, and third-years Timur and Khurmat coincide with the names mentioned by the mother of the deceased in her open letter.
Deputy head of the Tashkent city police and head of the investigative department Donier Tashkhojayev said that all the suspects are questioned by law enforcement officers, and temporarily restricted to leave Uzbekistan.
Moreover, the representative of the police noted that during the preliminary investigation they will legally assess the actions of teachers and medical workers.
The initiative group of citizens who signed the petition insists these measures to be undertaken by the police specifically. They also demand that parents responsible for meddling with the law enforcement process and all the concealers were brought to justice.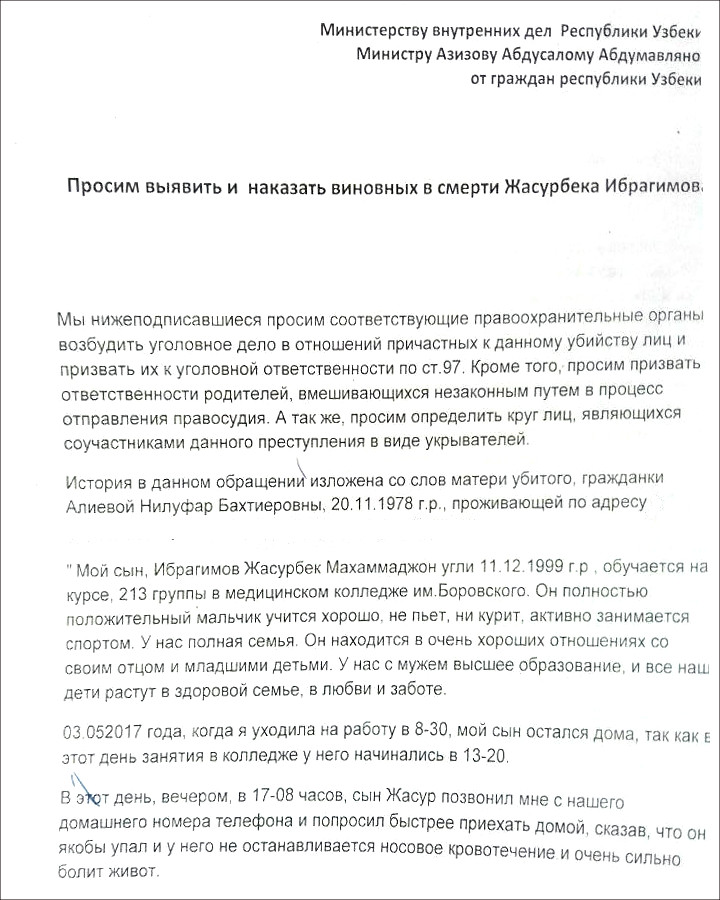 More than 200 people signed the paper petition on 4 June, 1 page

More than 17,000 people signed under the virtual "To punish the perpetrators of the death of Ibragimov Jasurbek" petition published on the Change.org website.
The outraged online community heatedly discusses circumstances of the death of 18-year-old teen in the social network.