UN Special Rapporteur criticises unprecedented pressure on dissent in Tajikistan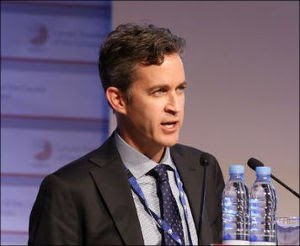 David Kaye
David Kaye, the UN Special Rapporteur on the promotion and protection of the right to freedom of opinion and expression, sharply criticised the government of Tajikistan for the unprecedented pressure on independent journalists and dissidents.
At a meeting of the UN Human Rights Council held earlier, he said that the measures taken by the Tajik authorities to ensure security and stability in the country have the opposite effect. In a report prepared by David Kaye after his visit to Tajikistan last year, he accuses the government of suppressing the independent press, restricting access to information, pressure on civil society and opposition democratic forces. According to him, all this does not contribute to ensuring security in the country, Ozodi Radio (the Tajik service of Radio Liberty) reports.
The Special Rapporteur noted that under the circumstances of growing threat of regional extremism, the government focused on suppressing dissent and violating the rights of citizens, which creates fertile ground for more discontent in the society.
He expressed concerns about "the intimidation of the media, censorship of the internet, and 'draconian' restrictions on opposition voices, among other concerns. I also realised that in Tajikistan all communications are under government control," David Kaye said. The diplomat urged the government "to reconsider its approach and reverse restrictions, thus ensuring broad and open space for civil society."
According to the report, only in June 2015, the authorities of Tajikistan closed 85 websites. David Kay during his trip to Tajikistan found out that some journalists were accused of financial fraud, organised crime and extremism after the publication of critical materials. Some editors, on orders from "above," dismissed journalists who write critical articles.
David Kaye also said that the re-registration of SIM cards and the ban on mobile operators to sell more than two SIM cards per person is a violation of civil rights and freedoms. The authorities explained the decision to re-register and prohibit the sale of more than two SIM cards to one person by the fact that often members of terrorist groups use SIM cards registered to a different person which makes it difficult to find them.
In the report of David Kay, the authorities of Tajikistan were criticised for banning the activities of the Islamic Renaissance Party of Tajikistan (PIVT), sentences for lawyers Buzurgmehr Yorov, Nuriddin Mahkamov, and Shukhrat Kudratova. He called on the government of Tajikistan to release lawyers and all political prisoners.
Jamshed Khamidov, the Tajik ambassador to the Swiss Confederation and the country's permanent representative to international organisations in Geneva, slammed David Kaye's report. Speaking at a meeting of the UN Human Rights Council, he stressed that David Kaye ignored the laws and other measures taken by Tajikistan to combat terrorism.
"This is a one-sided and biased report. It reflects only the point of view of non-governmental organisations, the author ignored and did not take into account the opinion of the government," Jamshed Khamidov said.