Russia: 17 federal regions withdraw from resettlement programme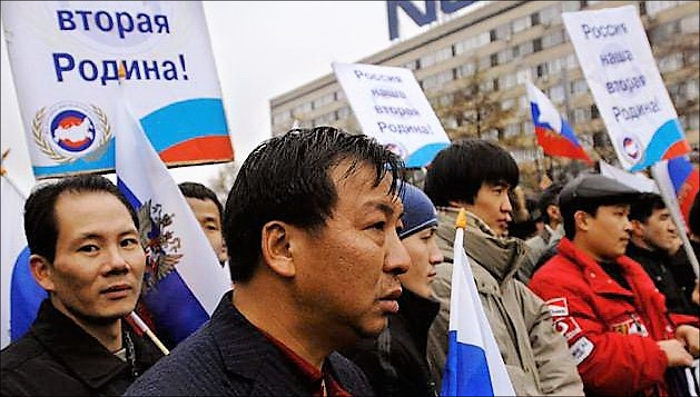 Seventeen federal regions of
Russia
applied to the government for withdrawal from the state programme for the voluntary resettlement of compatriots, the first deputy head of the Ministry of Internal Affairs, responsible for migration issues, Aleksandr Gorovoy said at the Federation Council session, TASS reports on 20 June.
"More than 650 thousand compatriots have been accepted from other states. This year this programme began to halt, and 17 subjects appealed to the Russian government with a request to withdraw them from this programme," he said.
Mr Gorovoy noted that such a situation indicates other than such economic issues as "there is nowhere to settle, there is nowhere to provide jobs," but "and, perhaps, the demographic risks that we have taken into this programme."
Back in January 2017, Aleksandr Gorovoy turned to the Russian government with a request to postpone the drafting of projects for the resettlement of compatriots from abroad to 17 Russian regions until 1 January 2019, Life Agency writes. According to the leaders of these regions, they simply do not know what to do with visitors as there are too many problems with the local population.
According to the sources of Life Agency in the government of the Russian Federation, earlier in accordance with the decree of President Vladimir Putin, it was planned that this year 80 regions will participate in the programme for the resettlement of compatriots from abroad (now 63 regions are participating in it), among which are Moscow, St. Petersburg, Sevastopol, the republics of North Ossetia, Dagestan, Adygea, Ingushetia, Chechnya, and oblasts like Moscow, Vladimir, Kirov, Ivanovo and other regions.
The state programme on rendering assistance on voluntary resettlement of compatriots living abroad was approved in 2006. Initially, its validity was limited to 2012, but from 2013 it became unlimited. According to the estimates of the experts of the International Organisation for Migration, the number of potential participants in the programme for the resettlement of compatriots willing to move to Russia from the Commonwealth of Independent States, Baltic countries, and Eastern European countries ranges from 5 to 10 million people.
During the meeting in the Federation Council Mr Gorovoy also said that the Russian Ministry of Internal Affairs had submitted a bill to the State Duma providing fingerprinting procedure for all foreigners arriving in Russia at the place of their arrival.
According to him, a tightening control over the migrants' stay regime will continue. Mr Gorovoy noted that "as a result of the 'Papillon' system, 26,000 foreign citizens,who tried to enter Russia on other people's documents, were identified by the fingerprinting database over the past year."
Meanwhile, Deputy Speaker of the Federation Council Ilyas Umakhanov noted the problem of the high cost of patents (working permit) in some regions, because of which migrants are forced to "go into the shadow," the "Parliamentary Newspaper" reports.
"There are also no clear criteria for selecting organisations conducting a comprehensive exam which creates conditions for corruption and reduces the quality of testing" of the programme procedure, Ilyas Umakhanov said, "programmes for the integration of migrants have not been developed. All these issues continue are under our control, and I am sure that they will find their own solution in the near future."