Entrepreneurs of Tajikistan and Uzbekistan waiting for visa regime abolition and new checkpoints on border
The businessmen of Tajikistan and Uzbekistan proposed to the governments of the two countries to cancel or simplify the visa regime introduced in 2000 between the neighbouring states. Businessmen spoke about this at the talks between the governmental delegations of Tajikistan and Uzbekistan with the participation of representatives of business circles held in Dushanbe on 20 June.
The delegations were led by the first deputy prime minister Davlatali Said from the Tajik side and the deputy prime minister by Ulugbek Rozikulov from the Uzbek side, Asia Plus Agency reported citing a source in the Tajik government.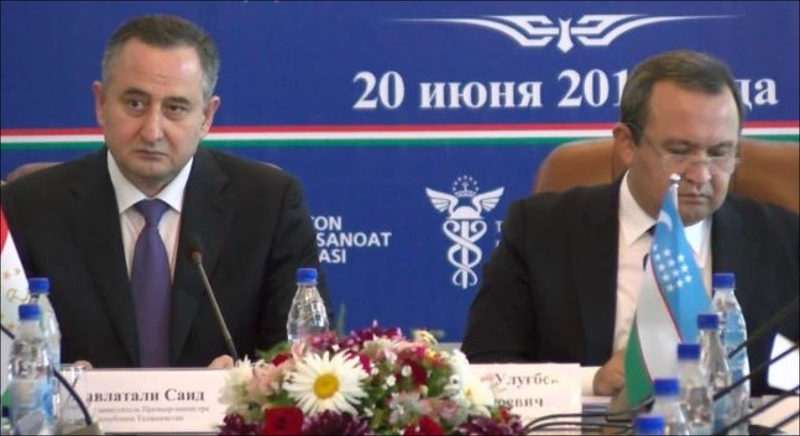 Davlatali Said and Ulugbek Rozikulov. Photo © Ozodi Radio

Many participants of the meeting expressed the opinion that the visa regime between the countries is almost the major obstacle on the way of development of cooperation. Khurshed Lutfulloyev, an Uzbek entrepreneur whose company is engaged in the processing of agricultural products, says that he sent his proposals to the government on the cancellation or simplification of the visa regime between Tajikistan and Uzbekistan. According to him, it is because of the visa regime that it is difficult to transport goods through border posts.
The general director of the Tajik private company Avaz Engineering Azim Khakimov believes that it is necessary to simplify the procedure for obtaining a visa for entrepreneurs at airports and border posts, Ozodi Radio (the Tajik service of Radio Liberty) reports.
The negotiators noted that there are only two checkpoints operating on the Tajik-Uzbek border to date. Businessmen raised the issue of opening additional checkpoints on the common border. It was also suggested to reduce the cost of air tickets for planes that fly between Tashkent and Dushanbe.
[Personal meetings of entrepreneurs of Tajikistan and Uzbekistan in the framework of a business forum. Photo © Ozodi Radio]
It was noted at the meeting that over the past year the volume of trade turnover between the two states increased almost sixfold. Deputy Prime Minister of the Government of Uzbekistan Ulugbek Rozikulov noted that within the framework of the largest in the last three decades exhibition of Uzbek goods, held in April in Dushanbe, $50 million worth agreements were signed.
In addition, in the near future in Dushanbe, the construction of an auto centre for the sale of Uzbek cars produced under the trade "Ravon" brand will begin, financed by the Uzbek side.