Kazakhstan: Civil rights activist on hunger strike faces deadly danger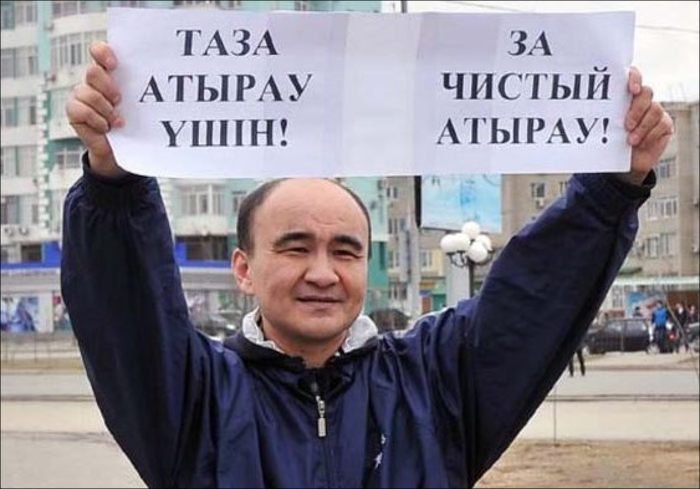 Max Bokaev
A civil rights activist Max Bokaev, serving a sentence in the prison of the North Kazakhstan region, has been on hunger strike for two weeks already, and he is not provided with proper medical care, and his health is seriously threatened, members of the political council of the Socialist Movement of Kazakhstan (SDK) state in its address to the members of the European Parliament, OSCE, international human rights organisations, embassies and consulates in Kazakhstan.
In November 2016, Maks Bokaev and his associate Talgat Ayan were convicted in Atyrau city for "inciting social discord" for five years each and illegally sent to the prison of northern Kazakhstan located several thousand kilometres from their home. Lawyers and relatives filed a lawsuit with a demand to transfer the convict to his place of residence, but the verdict of the court in Petropavlovsk city turned out to be not in favour of political prisoners. In this regard, Maks Bokaev went on a hunger strike demanding to satisfy his lawful right to serve his sentence in the Atyrau region.
"Now both a hunger strike and a long stay in the prison of the North Kazakhstan region are fraught with irreversible consequences for Maks Bokaev's health, since he has a severe form of hepatitis C which belongs to the category of fatal diseases, and under unfavourable conditions of detention, climate change and even stresses, to which the hunger strike also applies, can lead to death. With the isolation of Maks Bokaev in northern Kazakhstan, the authorities pursued the goal of completely isolating him from communicating with his relatives, from receiving necessary medicine, from contacts with civil and social activists of Atyrau, where there is a high level of protest and opposition sentiments," SDK said.
Its authors note that Maks Bokaev and Talgat Ayan are symbols of the struggle for civil rights and against Chinese expansion in Kazakhstan, they "refused to participate in the sham 'land commission' and from cooperation with the regime, so transferring them to another part of the country is a revenge of the authorities and an additional type of punishment."
"We call upon the members of the European Parliament, diplomatic missions in Kazakhstan, the OSCE mission in Kazakhstan, and international human rights organisations, political parties and trade unions to demand from President Nursultan Nazarbayev and the Kazakh authorities to ensure the lawful rights of political prisoner Maks Bokaev and review his case," SDK activists conclude.
The chairman of the International "Zhanaozen-2011" Committee and the head of the board of the "Journalists in Need" Foundation Ramazan Yesergepov on his Facebook page stated his readiness to join the political hunger strike announced by Maks Bokaev.
"In spite of CHD (coronary heart disease - note by Fergana), cardiac arrhythmia, stab wounds, in solidarity with the hunger strike action undertaken by Maks Bokaev (member of the "Zhanaozen-2011" International Committee illegally sentenced to five years together with Talgat Ayan [...] as well as in support of the name illegally prosecuted Atabek (poet) and Mamai, Mataevs (journalists), Ibraeva (professor), Dzhakisheva (former head of Kazatomprom) Kuramshina (human rights activist), Dosov (blogger), Kushakbaeva and Eleusinov (labour union figures) declare continuation of the relay of the political hunger strike," Ramazan Yesergepov wrote.