Human rights defender stands for President in Kyrgyzstan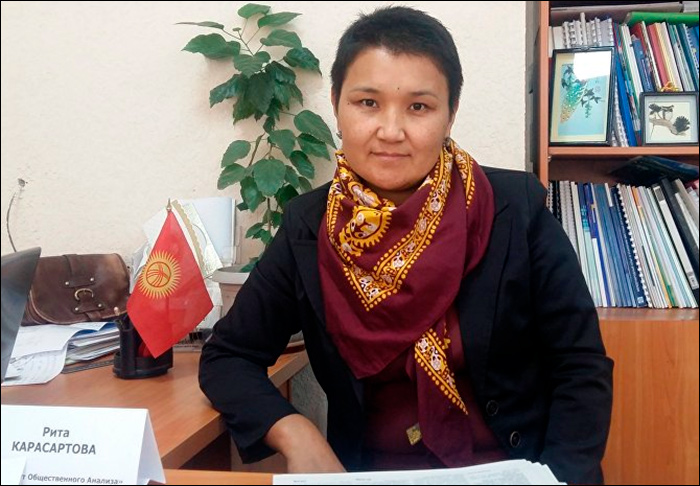 Rita Karasartova
On 27 June the Central Elections Commission (CEC) has received an application of the human rights defender and lawyer Rita Karasartova to stand as a president's candidate.
"I stand as a candidate for President because current candidates are not serious about the problems in the country which would not change the political situation," Rita Karasartova commented Fergana about her decision.
"They talk about credits, equipment, cooperatives etc. And nobody tells about a change of the political system, that all power branches submit to one person. Until we crush the established system of check and balances nothing would change. It is the most fundamental thing in my programme."
Rita Karasartova is confident about Kyrgyzstan is able to declare itself as a democratic country.
"I believe we can make use of such a national approach as kurultay (people's gathering) while applying new methods. It is the same parliamentarism…Enforcing parliamentarism will be my area."
She responded the question about her chances to win the elections: "I think I have every prospect for a win because there are a lot of people in Kyrgyzstan wishing changes. I am sure I can turn to my side the electorate who is ready to vote not for beautiful promises, but for real changes."
"I understand that the whole administrative resource will work on the side of the candidate from power - [incumbent Prime Minister Sooronbai] Jeenbekov. Just recently President Atambayev publicly supported Jeenbekov. I filed a complaint with the Central Election Commission - this is a direct campaigning [for him] which is a violation of the rules of campaigning set in the Law 'On Elections.' CEC responded to my complaint: gave an answer that Mr Jeenbekov had not been registered yet, so there is no violation," Ms Karasartova said.
Earlier, Sooronbai Jeenbekov was nominated by the ruling Social Democratic Party (SDPK).
In March 2017 SDPK demanded to recover one million Kyrgyz soms ($14.5 thousand) from Rita Karasartova and the same amount from the 24.kg news agency. The reason for the claim was the "Regions of Kyrgyzstan snapped back at the party of power" publication which stated that the members of Parliament refuse to vote for candidates of SDPK as mayors of cities.
The Social Democrats were offended by Rita Karasartova's statement: "They [SDPK] started playing politics, selling positions to the right and to the left." SDPK estimated this statement at two million Kyrgyz soms declaring that "this statement has nothing to do with reality, defames and undermines the claimant's [SDPK] business reputation before the people of Kyrgyzstan, and, above all, the party's voters."
"I do not look at the results of voting [in the presidential elections in Kyrgyzstan] through rose-coloured spectacles. But not everything can be painted. Otherwise, the candidates would not invest. I think that the results of the elections will be determined by the voters. And I want to believe that those 30-40 percent of the electorate who do not go to the polls because they do not believe this system will still come to polling stations and vote for me," Ms Kasartova hopes.
Earlier, according to CEC of Kyrgyzstan, three more people stand as candidates as self-nominees. Another Akshumkar political party proposed its leader, former Prime Minister, Temir Sariev.
The leader of the Ata Meken party Omurbek Tekebayev, who was arrested on 27 February 2017 on charges of corruption, is among self-nominees.
Previously, other parties Onuguu Progress (Bakyt Torobayev) and Republic-Ata-Jurt (Omurbek Babanov) announced their intention to nominate their candidates. Some details about the candidates can be found in the Fergana material - "Wealth that was acquired: what potential presidents of Kyrgyzstan possess and conceal?".
The presidential elections in Kyrgyzstan are scheduled for 15 October 2017. All candidates need to submit their applications before 15 August. The election campaign will be held from 10 September until 14 October.