Uzbek President about how real journalists look like
President of Uzbekistan Shavkat Mirziyoyev honouring the Day of Workers of the Press and Mass Media 27 June named features that, in his opinion, distinguish real journalists.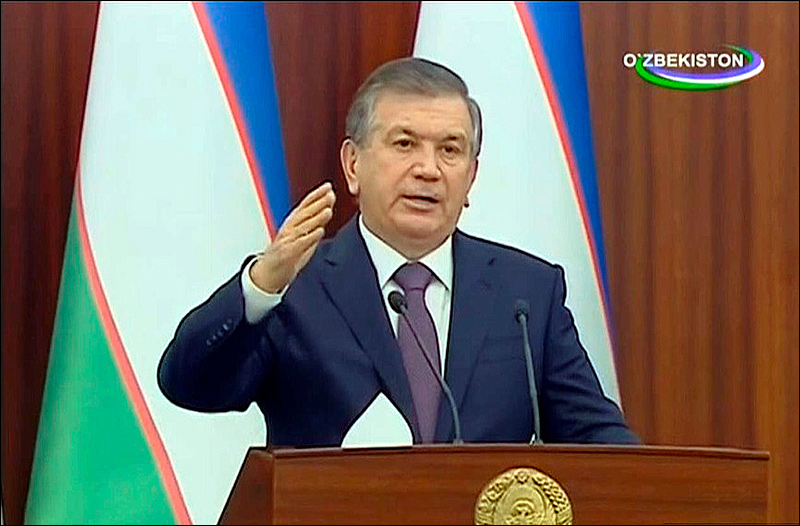 "I consider real journalists to be representatives of this profession who boldly raise the issues of eliminating various barriers to our development, especially such negative manifestations as bureaucracy, indifference, extortion, corruption, for whom the duty and the meaning of life is the formation of public opinion irreconcilable to like vices," President Mirziyoyev said.
He noted that "to achieve it media professionals need not only professional knowledge and skills, life experience, a sense of responsibility for their word, but at the same time - a strong civic position and a spiritual courage."
"We must create even broader opportunities for the media from the legislative, material, technical, educational and methodological points of view."
The president said that there are more than 1,500 media outlets operating in Uzbekistan today, 118 publishing houses, 1,760 printing enterprises, thousands of creative and technical workers, and more than 60 million copies of books are published annually in seven languages.
"The actual task remains the same - the transformation of quantitative indicators into qualitative ones," President Mirziyoyev said adding that the media should become a real fourth power, there should be a pluralism of opinions and views in the national media space, every media must be turned into a real platform for dialogue, a platform for free expression of opinions, and this "will help us achieve our goals."
President Mirziyoyev acknowledged that the Uzbek media "do not yet fully reflect the problems in our life, the strengthening of the spirit of criticism and self-criticism in our society, primarily acute and pressing issues with which citizens turn to the local People's Reception Centres, and the Virtual Office of the President."
The late President Islam Karimov, who ruled for 26 years, spoke annually in his speeches and various reports on the Day of Media Workers supporting critical journalism in defence of freedom of speech, calling to boldly, honestly and principally denounce the shortcomings in the country, not letting the shameless officials get away. It did not stop him and the government, headed by Shavkat Mirziyoyev for 13 years, to block access to independent Internet media trying to give objective information including the web resource of the Fergana News Agency, to force journalists and representatives of foreign mass media away from Uzbekistan who tried to speak out on acute topics and raise current problems.
With Shavkat Mirziyoyev coming to power the stranglehold on the Uzbek media relaxed a little, some publications began to allow themselves an easy criticism of local officials, cautiously raise problems related to roads, landscaping etc. However, the unofficial blocking of independent media continues with the Uzbek authorities refusing to recognise that they are blocking access but recommending to access a technical support for blocked web resources. So, the question, whether the statements of the new president will also diverge from reality, like the statements of his predecessor, remains open.