Uzbekistan is ready to resume cooperation with Human Rights Watch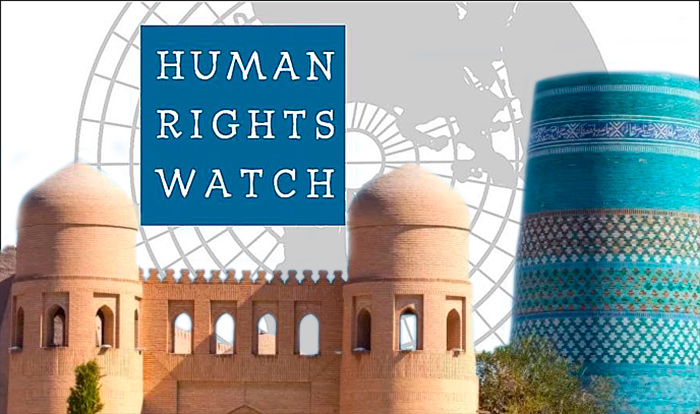 Uzbekistan
is ready to resume cooperation with Human Rights Watch (HRW), head of the Uzbek Foreign Ministry Abdulaziz Kamilov said on 5 July during a direct dialogue with his fellow citizens,
Gazeta.Uz
reports.
Answering the question about "some pause" in cooperation with HRW and the possibility of its renewal, the minister said: "Yes, they may well return."
"We have recently received a letter from Kenneth Ross, the executive director of Human Rights Watch, in which he asked to allow a small group led by Mr [Steve] Swerdlow (HRW Central Asia Researcher) to come to Uzbekistan. We are ready to accept this team," Mr Kamilov said.
He explained that cooperation should be based on the principles of mutual respect and "avoidance of any kind of interference in internal affairs," and added, "it is necessary to respect our traditions, our customs, and understand the specifics."
"We have our own understanding of the democratic development of Uzbekistan. Much in this regard is being done by the respected Shavkat Mirziyoyev, our president, from the first day after the election to the country's leadership," the minister added.
According to him, "there are no prohibited topics here" and it is necessary "not to exclude any issues from the agenda, [and] to discuss them calmly."
"We can have different points of view, different views, different approaches to certain issues or problems. But this should not mean that we exclude completely our joint activities in the space where we have common interests. Our doors are open, and we are ready to accept not only Human Rights Watch, but also other organisations," Abdulaziz Kamilov assured.
Steve Swerdlow, Central Asia researcher at Human Rights Watch, commented Uzbekistan's Foreign Minister Abdulaziz Kamilov: "Human Rights Watch values the government's readiness to take this step to engage with our organisation."
"While Human Rights Watch has conducted research and advocacy on human rights issues in Uzbekistan continually for over 25 years, our researchers have been denied access to the country since 2011. As an international, independent, non-partisan organisation devoted to research and advocacy on human rights issues in more than 90 countries, we use the same methodology with respect to Uzbekistan as for every country where we work: rigorous, fact-based reporting combined with an examination of the government's adherence to and implementation on the ground of its international human rights commitments," the HRW representative said.
"We look forward to continuing to work closely with our partners in Uzbekistan's civil society and to making plans to visit the country in the near future," Mr Swerdlow concluded.
The office of Human Rights Watch in Tashkent was opened in 1996, but since 2007 the organisation only maintained registration with the Ministry of Justice of Uzbekistan still unable to work actively in the country, since the Uzbek side began to refuse accreditation to its representatives. In June 2011, the Supreme Court of Uzbekistan granted the Ministry of Justice's claim for the liquidation of the HRW office.
After Shavkat Mirziyoyev came to power, Human Rights Watch invited him to take nine key steps in the human rights field:
- Free Political Prisoners: Ensure the immediate and unconditional release of all those held on politically motivated charges, including political and civic activists, journalists, lawyers, and rights defenders, and allow them to continue their peaceful activities.
- Cooperate with UN Rights Bodies: Reverse the government's policy of non-cooperation with international institutions, particularly United Nations human rights mechanisms, by allowing the 14 UN human rights experts who have requested access in as many years to Uzbekistan.
- End Torture: Take meaningful measures to end the torture and ill-treatment that are widespread in Uzbekistan and allow the International Committee of the Red Cross, along with other human rights groups, to operate normally in the country and monitor conditions at detention sites.
- Remove Media Restrictions: Ensure genuine media freedom, including by ending the routine blocking of numerous internet websites and the harassment of journalists, and allow domestic and international media outlets, including those that have been forced to stop operating in Uzbekistan, to register and grant accreditation to foreign journalists.
- Unshackle Civil Society: End the crackdown on independent groups and activists and allow domestic and international human rights organisations to operate without government interference, including by promptly re-registering those that have been liquidated or otherwise forced to cease operating in Uzbekistan, and issuing visas and accreditation for staff of international non-governmental organisations.
- Guarantee Freedom of Religion: Uphold Uzbekistan's obligations to guarantee freedom of religion or belief, including by releasing religious believers imprisoned on overbroad "extremism" charges and relaxing the restrictions on religious worship and education.
- End Sexual Orientation and Gender Identity Discrimination: Decriminalise consensual sexual relations between men and take steps to end homophobia and discrimination against the LGBT community.
- End Forced Labour: End forced labour in the cotton sector, allow truly independent monitoring, involve independent non-governmental organisations in assessments of the cotton harvest, and put an end to retaliation against independent activists who monitor the government's practices in the cotton sector.
- Allow Independent Investigation of the Andijan Massacre: Accept the recommendations by numerous governments to allow an independent, international inquiry to investigate the killings during a protest in Andijan on May 13, 2005, and communicate to the public a willingness to allow discussions and a critical examination of the Andijan events.