Russian human rights defender repeatedly denied to enter Kyrgyzstan
The representative of "Memorial", the Russian human rights centre, Vitaliy Ponomarev was banned from entering Kyrgyzstan on the basis of a secret letter from the State National Security Committee (GKNB) of this country. The lawyer of the human rights defender was informed about this on 10 July by the border control department of the State Border Service of Kyrgyzstan.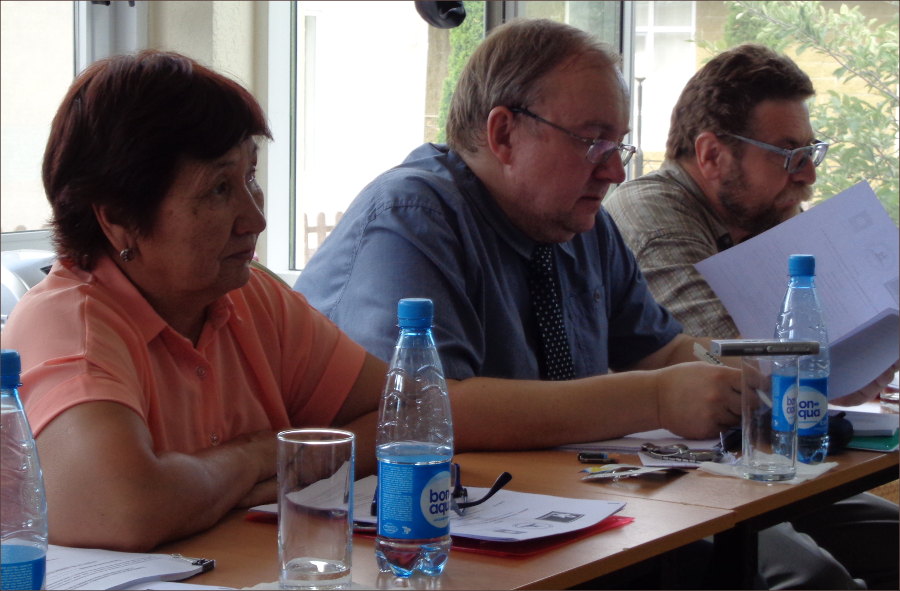 Vitaly Ponomarev at the forum in Kyrgyzstan. Photo by Sahira Nazarova

Vitaly Ponomarev told Fergana that during the passport control procedure he was presented with an act banning his entry by the border guards. The reasons were not explained. When he called the border agency he was told his lawyer can come for details. However, the lawyer was provided with the information about "the secret letter by GKNB" and its details cannot by specified. Therefore, the lawyer of Mr Ponomarev left the written request asking the reasons for the ban of his client.
Russian human rights defender arrived in Bishkek on 29 June, where he participated in a "Human Rights and Combating Extremism and Terrorism" forum held by Kylym Shamy, the Kyrgyz human rights centre. After the forum he flew to Astana (Kazakhstan) and then wished to return to Bishkek to collect his luggage and fly to Moscow. Currently, Vitaly Ponomarev is in Kazakhstan, near the border point with Kyrgyzstan.
Mr Ponomarev had already been barred from entering Kyrgyzstan - during the regime of Kurmanbek Bakiyev. In February 2009, after the publication of the "Memorial" report on the Nookat events, he was deported to Russia as a figure undesirable for his presence in Kyrgyzstan. However, a few days after the fall of the Bakiyev regime, the Interim Government under the leadership of Roza Otunbayeva abolished restrictions for foreign human rights defenders and journalists to enter the country.
Earlier, the current authorities of Kyrgyzstan denied entry to the senior researcher of the Institute of Oriental Studies of the Russian Academy of Sciences, Alexander Knyazev (2013), Grigory Mikhailov, the editor-in-chief of the Russian news agency Regnum in Bishkek, who was taken outside the country and banned from entering (2017), Human Rights Watch Researcher Mihra Rittmann (2015), Vasil Inoyatov, the head of the Ezgulik human rights society (Uzbekistan) (2014), Valentina Chupick, the executive director of "Tong Zhahonyi", the international non-profit organisation based in Moscow (2017).