Kazakhstan President approves deprivation of citizenship for terrorism and other discriminatory norms
President of Kazakhstan Nursultan Nazarbayev signed the law containing contradictory norms allowing to deprive citizenship for certain types of crimes and prohibit people from nominating themselves for the presidency of the country not from the "system." According to experts, this act throws the state away from democratic standards to an even greater extent.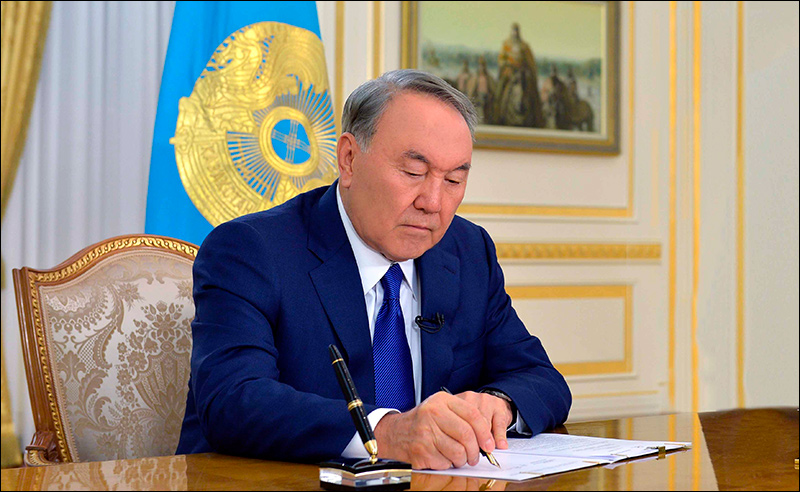 Nursultan Nazarbayev

The law provides deprivation of citizenship as a punishment for 14 types of convictions for particularly serious terrorist crimes which are participating in terrorist organisations, the implementation of terrorist acts, genocide and participating in military conflicts of other countries. This norm applies to Kazakhstanis who are abroad. However, citizenship can be deprived on controversial grounds. The novelty implies the deprivation of citizenship for causing "serious harm to the national interests and vital interests of the country."
As Kazakh Minister of Justice Marat Beketayev explained earlier, "this concept includes independence, unitarity and presidential form of government of the country. The crimes attributed to the serious harm to the national interests and the vital interests of the republic are attributed to the body of crimes listed in 11 articles of the Criminal Code of the Republic of Kazakhstan."
The public immediately remembered the Soviet Union with its practice of depriving citizens of dissidents, especially since there are no clear interpretations that can be attributed to the "national and vital interests of the country."
"In the Soviet Union, it [deprivation of citizenship] was widely used in relation to dissenters and dissidents when accused of treason. In the early 90's, this rule was abolished as a demonstration of renunciation of the totalitarian past. It seemed forever," human rights defender Yevgeny Zhovtis wrote in his article for the Ratel.Kz site.
Another norm of the new law introduces amendments to the Constitutional Law "On Elections," thanks to which only those who have devoted at least five years to the civil service or have the same term in an elected office receive a hypothetical opportunity to stand for the presidency. In addition, the presidential candidate must confirm the absence of illnesses preventing him from performing his duties.
Even considering the inflated apparatus of Kazakh civil servants, no more than 10 percent of the population able to work can be nominated to the presidency. Therefore, the first version of the emergence of such an initiative is quite logical - to prevent any possibility of coming to power of a person not from the "system" for the future.
Minister of Justice Marat Beketayev officially explained discriminatory norms: "You saw yourself a lot of cases when people used this norm in the electoral period for self-nomination. Everyone understood that this is a frivolous self-nomination, this is done for a self-promotion."
In total, the new legislative act amends seven codes and 46 laws.