Kyrgyz President calls his country heaven for business
"Kyrgyzstan is already becoming a paradise for business, a free country where you can invest and earn big money by working honestly and transparently," Kyrgyz President Almazbek Atambayev said on 11 July at a meeting with a US business mission.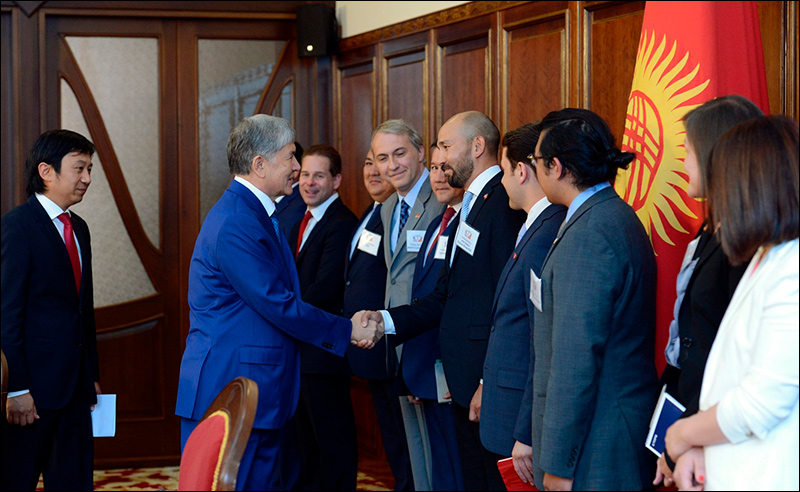 Photo by the press service of the President of Kyrgyzstan

As the press service of the Kyrgyz president reports, representatives of Baker & McKenzie LLP, General Electric, AGCO Corporation, members of the US-Kyrgyzstan Business Council established in 2016, as well as representatives of such companies as Coca-Cola, VisaInc, AES, John Deere.
President Atambayev noted that the arrival of the US business mission tells about the growing interest of business and private investors from developed countries to cooperate with Kyrgyzstan. He stressed the importance of establishing direct contacts with representatives of American companies that are leaders in their sectors and have a good reputation and rich experience in various fields.
The President discussed with representatives of transnational companies the prospects for interaction and intensification of contacts between business circles of the two countries, taking into account the opportunities of Kyrgyzstan. He assured that much is done in the country to create favourable conditions for doing business and ensuring transparency of all processes.
Speaking at a ceremony of presenting state awards to residents of the country on 12 July, Atambayev said that in the near future Kyrgyzstan expects economic growth.
Noting that there is no oil and gas in the country, the president said that "in some villages our citizens live not worse than their neighbours. We found our way. Literally, in a year or a year and a half returns will be made on projects, growth will start again." The growth of the economy has already begun. We are the first in the CIS countries in terms of GDP growth. But in the future we will be able to increase the pensions and salaries many times," 24.kg quotes the president.