New 24/7 TV channel broadcasts in Uzbekistan.The launch of the channel is timed to the birthday of Shavkat Mirziyoyev
New TV channel named O'zbekiston 24 has appeared in Uzbekistan simultaneously with an FM radio station now working 24/7 broadcasting news and information.
As Gazeta.uz informs, the channel has started broadcasting the national anthem and then TV presenters and the crew greeted viewers in Uzbek, Russian, and English. They said that it is time to "wake up" and reflect large-scale developments in the "awakening country," and promised their work will be transparent, prompt, and impartial raising the most burning problems.
The day before the official launch the TV channel was presented to Uzbek bloggers, and as Mytashkent.uz reports, they were told that "no censorship will be allowed, on the contrary, everyone was offered to cooperate, be creative, participate by projects, reveal and grow."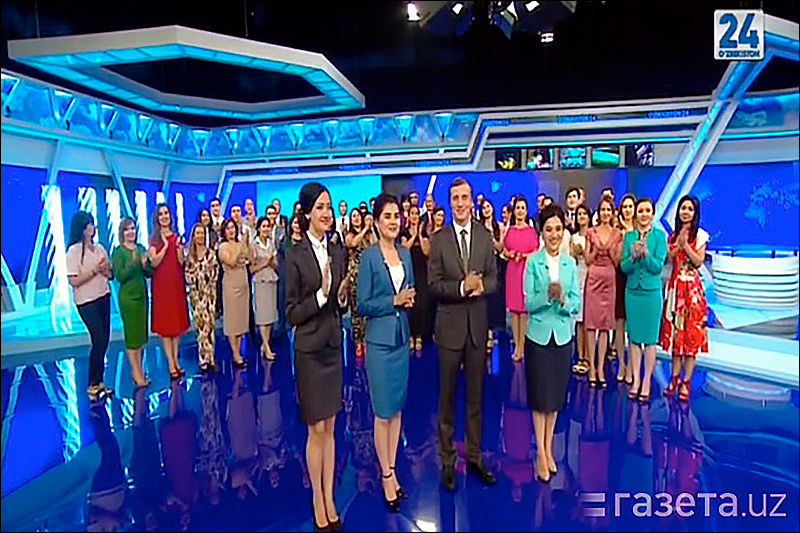 Uzbekistan 24 television crew

The TV channel plans to expand opening its nine offices worldwide, "broadcasting external news impartially, neutrally, but with a position of Uzbekistan on the issue." 251 members of the channel crew will produce in Uzbek, Russian, and English. And soon the TV content will be available in Karakalpak, Tajik, Kazakh and Kyrgyz languages.
The official Uzbekistan 24 website also provides TV and radio broadcasts, as well as a "zestful" newsline frame we hope would not sustain: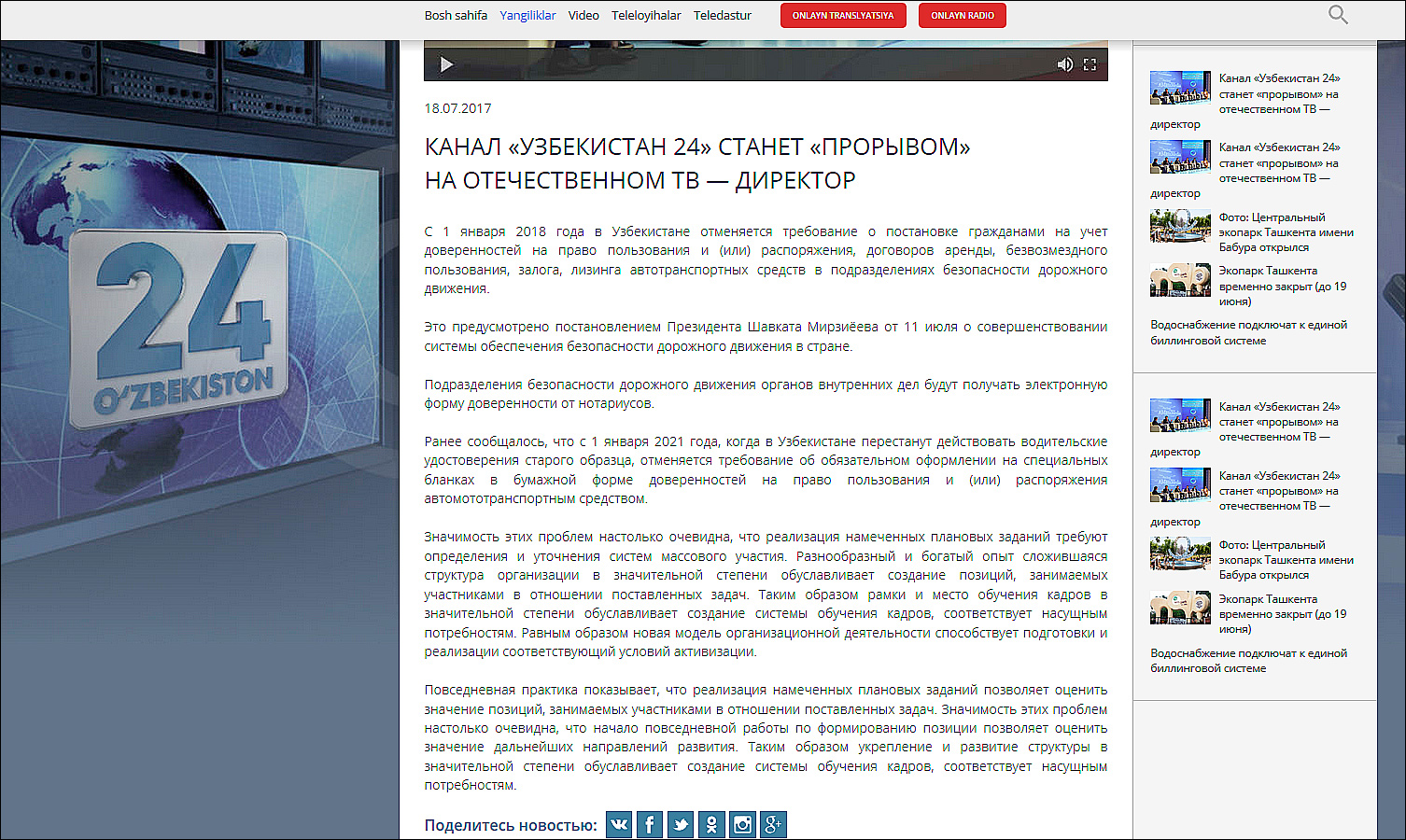 A promised breakthrough. A screenshot from Uzbekistan 24 website

It was President of Uzbekistan who speaking about TV stated that the time for jingoism is gone and TV channels must contain critical and analytical materials, while the major TV programme - Akhborot (its style changed a little since Soviet era) must be reformed.
The relevant decree about the new TV channel was signed by Shavkat Mirziyoyev on 2 May. Among the main objectives of the new television and radio channel is "timely and reliable coverage of events" in the country and abroad, "their impartial and objective assessment," aimed primarily at "meeting the needs of the population for obtaining a high-quality information product and preventing the dissemination of unreliable, politically biased and other destructive information and ideology from the outside."
The launch of the TV channel is timed to the birthday of Shavkat Mirziyoyev