Russia tortures terror suspects in its secret prisons
Unknown individuals kept Abror and Akram Azimov brothers until their official detention torturing them to extract confessions in "secret prison," Republic web site reports.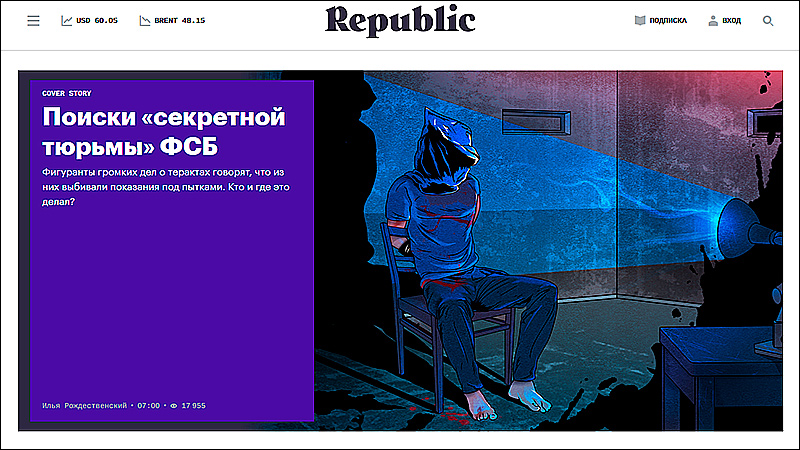 Abror Azimov was detained as a suspected organiser of the terrorist act in Saint Petersburg metro in April 2017. According to the investigators, Akram Azimov "was engaged in falsifying documents of members of an international terrorist organisation" so that they could freely enter Russia, and "personally received money on the territory of the Republic of Turkey from an active member of an international terrorist organisation."
He transferred the money to his brother Abror Azimov, who passed the money to the suicide bomber Akbarzhon Jalilov "for the preparation of the terrorist act," the case materials indicate. 
After the Azimov brothers were detained videos records of their apprehension were distributed widely. But their relatives called these videos as "staged."
Abror Azimov tells that on 17 April 2017 his clothes were changed and head covered with a hood, brought to the scene of apprehension, where his capture was staged. At the scene, his fingerprints were forcefully left on the Makarov gun which was placed under his belt. After that, he was delivered to the investigator expecting with a readily filled interrogation transcript.
Akram Azimov says he learned about the grenade only after the "capture," while the bag containing the grenade "had been put on him before he was ordered to sit on the bench."
The material about the secret prison tells about Abror Azimov was detained by unknowns, while driven in the car and kept for two weeks in the cell of an unknown basement. He was tortured variously. One day he heard a voice of his brother Akram, who also was held in the secret prison and tortured, who as a result criminated his brother, but later described it in his complaint. The author of the investigation material Ilya Rojdestvensky revealed three more people had found themselves in the same situation.
Republic news agency reports that Azimov brothers are detained in the Lefortovo isolator at present. There were charged with terrorism and illegal arms possession. The Head Military Investigative Department of the Investigative Committee of Russian is considering their complaint of torture.
The investigation on the terrorist act in Saint Petersburg is still not completed and the materials have not sent to the court yet. Azimov brothers are demanded to leave their own lawyers and use services of others that are appointed, the investigation concludes.