Novaya Gazeta and OSCE ask Putin to stop journalist's deportation Uzbekistan
Novaya Gazeta appealed to President Putin to stop the deportation of its freelance reporter, the citizen of Uzbekistan Hudoberdi Nurmatov (Ali Feruz). District court of Moscow sentenced him to be deported back to the Central Asia country for the violation of the migration law.
Mother of Ali, who sustained five heart operations, also appealed to the Russian president along with the journalists, Novaya Gazeta website informs.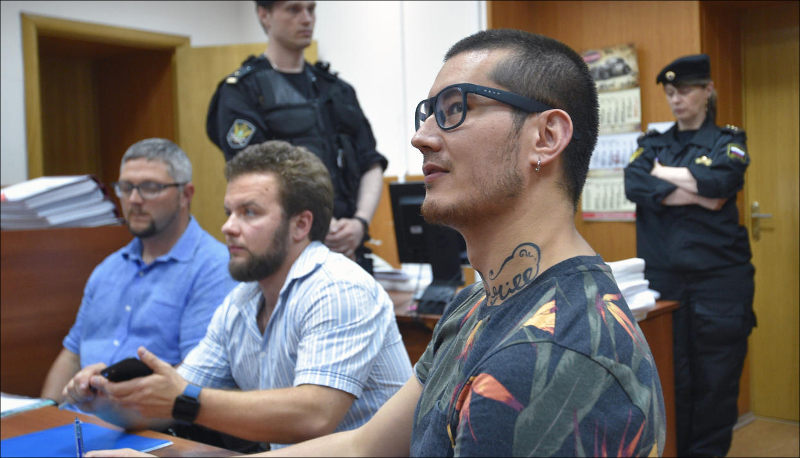 Ali Feruz in the court house. Photo © Kommersant

Novaya Gazeta together with lawyers plans to appeal the deportation judgement. "We think that if due to unknown reasons the Russian authorities do not wish Ali to remain in the country he must have an opportunity to leave for a third country of his choice," the staff of the newspaper notes.
The Editor-in-Chief of Novaya Gazeta Dmitry Muratov expressed his gratitude to other journalists for the support and the dissemination of the information about Ali and said he hopes the federal authorities and the Russian president will listen to the appeals to stop deporting Ali and he will live.
The OSCE Representative on Freedom of the Media Harlem Désir called on "the Russian authorities not to deport Novaya Gazeta Uzbek journalist Ali Feruz" in his twitter blog.
Actions in support of Ali Feruz will take place in Moscow, St Petersburg and Berlin.
Members of the Public Supervisory Commission visited Ali Feruz in the migration centre in Sakharovo where he is detained. The journalist told the observers he had been beaten during the escorting to the detention facility, stunned by the taser, insulted for his sexual identity. The members of the commission believe he was restrained by the court bailiffs.
Ali Feruz (Hudoberdi Nurmatov) was born in Russia, he worked as a journalist in Uzbekistan and its citizen, but was forced to leave the country because of the pressure imposed by the special services. He applied for asylum in Russia because he lost his passport, but when denied the application he was detained by the migration authorities for deportation to Uzbekistan.
Ali Feruz faces persecution and punishment for his journalist activity and sexual identity if he is deported back to Uzbekistan. Moreover, a diplomatic representative of one of the European country requested the Russian authorities to "legalise" Ali Feruz (which would mean to give him a travel document) to accept him, but the Russian migration authority denied such an action.
Reporters Without Borders and Amnesty International repeatedly call the Russian authorities to prevent Ali Feruz from subjecting him to risk of being tortured in Uzbekistan.
Fergana News Agency