Moscow city court suspends deportation of Novaya Gazeta journalist
On 8 August, Moscow city court suspended the deportation of the Novaya Gazeta journalist Hudoberdi Nurmatov (Ali Feruz), Meduza news agency reports.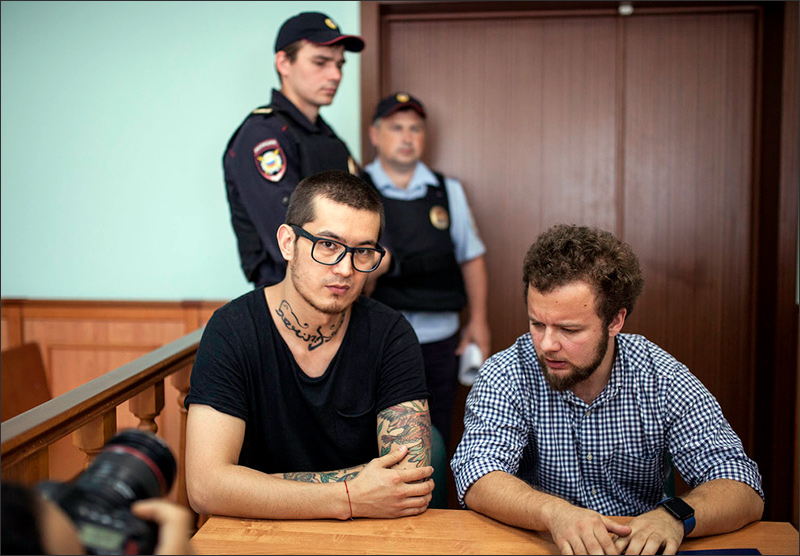 Ali Feruz in the court room. Photo by Novaya Gazeta

The journalist will not be subjected to the deportation while the European Court of Human Rights considers his complaint. Ali Feruz will be kept in the migration centre for asylum seekers.
Basmanny district court of Moscow decided to deport Hudoberdi Nurmatov and fine him five thousand Russian roubles for violation of the migration law. Nurmatov was earlier denied of asylum in Russia and apprehended near his editorial office. After the court judgement, he was sent to the detention centre for foreign citizens to be deported further.
During the trial his lawyers submitted documents indicating Ali Feruz has not violated any laws, including migration law, in Russia. While the appeal process goes on he could not be blamed for trespassing the migration laws and subjected to deportation.
Ali Feruz (Hudoberdi Nurmatov) was born in Russia, he worked as a journalist in Uzbekistan and its citizen, but was forced to leave the country because of the pressure imposed by the special services. He applied for asylum in Russia because he lost his passport, but when denied the application he was detained by the migration authorities for deportation to Uzbekistan.
Ali Feruz faces persecution and punishment for his journalist activity and sexual orientation if he is deported back to Uzbekistan. Moreover, a diplomatic representative of one of the European country requested the Russian authorities to "legalise" Ali Feruz (which would mean to give him a travel document) in order to accept him, but the Russian migration authority denied such an action.
Fergana News Agency