Kyrgyz court sends opposition leaders to prison
District court has sentenced the leader of the Ata Meken party Omurbek Tekebayev to eight years of imprisonment and asset forfeiture; a former head of the Ministry of Emergency Situations Duishenkul Chotonov gets the same conviction, Kloop.Kg reports.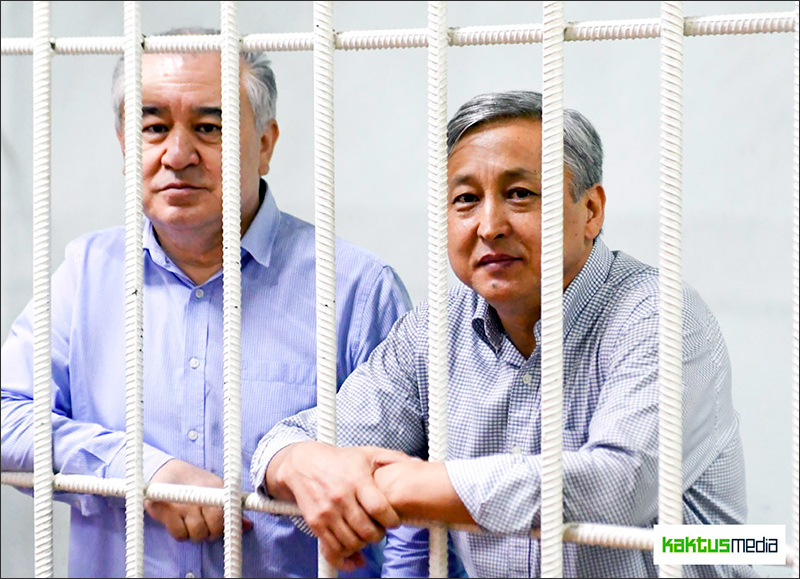 Omurbek Tekebaev (left) and Duishenkul Chotonov. Photo by Kaktus Media

The state prosecutors requested ten years of imprisonment for Tekebayev and eight years for Chotonov.
National security officers detained Omurbek Tekebayev on the night of 26 February 2017 right after his arrival. On the day before his detention, the Prosecutor General's Office of Kyrgyzstan reported that criminal proceedings started against Tekebayev under the "corruption" and "fraud" charges, the reason for which was the suit of the owner of a number of telecommunications companies of Russia Leonid Maevsky. He informed that in 2010 he gave $ 1 million to Tekebayev, deputy chair of the interim government of Kyrgyzstan, seeking preferences in business.
Subsequently, according to the Prosecutor General's Office, Tekebayev promised to sell Maevsky shares of the MegaCom cellular communication company for a bribe.
"Tekebayev did not fulfil his obligations and refused to return the money received threatening with physical punishment if any demands are made, and information about the fact was disseminated," the prosecutor's office said.
Supporters of Tekebayev began to rally immediately after his arrest demanding his release. On 27 February, the politician was charged under Article 303 part 1 (corruption) of the Criminal Code, the District Court of Bishkek sent him into custody until 25 April 2017 in the detention facility of the State Committee for National Security (GKNB) of the republic. Then the detention was extended.
The first trial on Tekebayev's case was held on 5 June. On 11 August, the defendant began to read out the last word; the process lasted four working days. Due to exhaustion, his state of health worsened twice; an ambulance called.
Fergana News Agency