Czech intelligence agency investigates deal made by Liglass Trading and Kyrgyzstan
By the request of Lubomir Zaoralek, Minister for Foreign Affairs of the Czech Republic, the Czech Security Information Service (BIS) investigates the deal made by Liglass Trading and Kyrgyzstan, Lidové noviny reports on 21 August.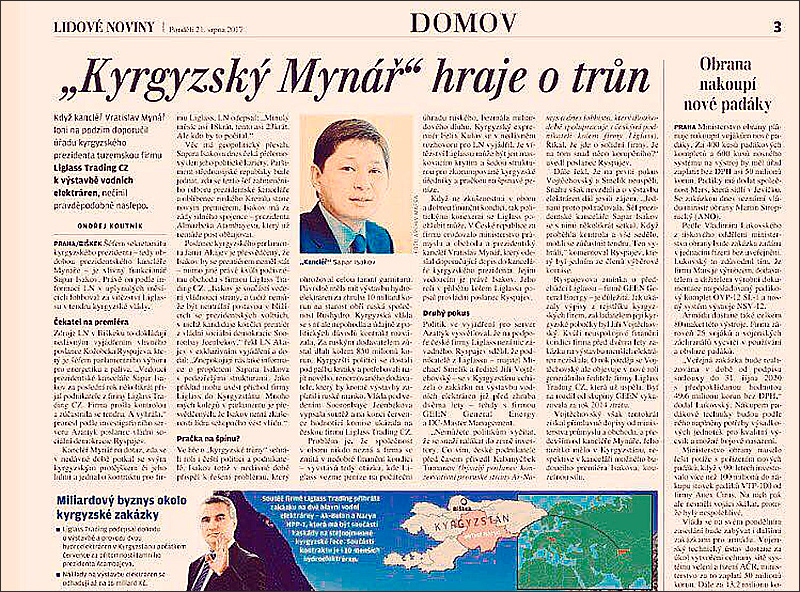 Screenshot of the article by Lidové noviny. Photo by Kaktus Media

The newspaper notes that only the government and the president can set tasks for BIS.
"Liglass is a Czech company. Therefore, the minister has the right to be interested in who is behind it, what kind of people they are and where they got such money from," Karel Randak said, the former head of the Office of External Relations and Information Service (Úřad pro zahraniční styky a informace) of the foreign intelligence of the Czech Republic.
According to Kloop.kg, a significant part in the printed version of the material describes the relationship between Liglass Trading and the head of the Chancellery of Czech President Vratislav Minar and the chief of the President's Office of Kyrgyzstan Sapar Isakov, whom journalists suspect of lobbying for the interests of the Czech company.
On 10 July it became known that the Liglass Trading company plans to build a number of hydropower plants in Kyrgyzstan and is ready to pay RusHydro of Russia $ 37 million and to attract up to $ 500 million investments for the project shortly. Journalists of the Czech Republic found out that this company is unprofitable, it traded glass products and urns for crematoriums in the past. It had no significant projects, including infrastructure or hydropower related.
The Kyrgyz Foreign Ministry backed by its embassies in Austria and Czech Republic warned the Kyrgyz government from the conclusion of the contract with Liglass. Nevertheless, the contract was signed. The head of the State Committee for Industry and Energy Duishenbek Zilaliev assured the journalists that if Liglass does not make the promised $ 37 million, "then in 30 banking days we unilaterally break the agreement and announce a second tender. No damage it will inflict; there is no reason for concern."
As Tazabek.Kg reports, on 21 August, Prime Minister of Kyrgyzstan Sooronbai Jeenbekov, on the question of whether $ 37 million paid to the Russian side on the hydropower plant project, answered: "[They] have not transferred yet. There is still time. It is a good agreement," meaning the agreement with Liglass Trading.
Fergana News Agency