Uzbek Military Court imprisons its citizen for treason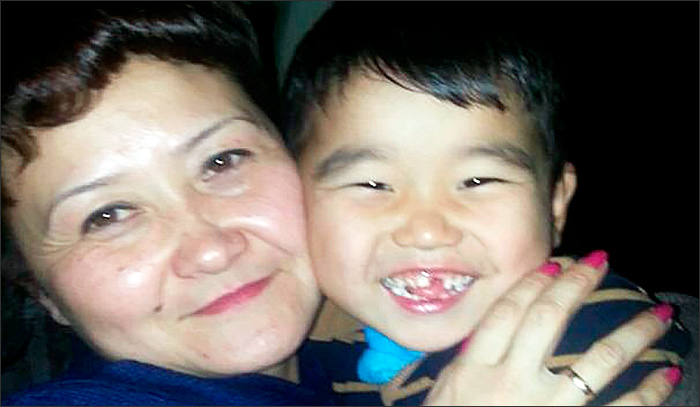 Alyona Kim with her child. Photo from Ozodlik website
The Military Court of the Republic of Uzbekistan has recognised Alyona Kim, the 36-year-old mother of two from the city of Shirin in the Syrdarya region of Uzbekistan, guilty of treason and sentenced to ten years and six months of imprisonment, Ozodlik (Uzbek service of Radio Liberty) reports.
The verdict pronounced on 12 July ten days later came into force, lawyer and relatives of Alyona report to "Ozodlik" on 21 August. According to her lawyer Nadezhda Pak, Kim was accused of espionage, transferring of information constituting state secrets to the representatives of another state, committing hostile acts against her country and inflicting harm on the national security.
Sister of the convict Viktoria Sultanmuradova says that the Uzbek authorities accused her sister of espionage only because Alena was earning money in Tajikistan for 13 years.
Before, Kim worked in the militarised guard service of the Ministry of Internal Affairs of Uzbekistan, then, along with her friend Zulya Khalimova, who has no citizenship, left to work in Tajikistan. From 2004 to 2005, they worked as waitresses at the Ochil restaurant in Khujand. According to the lawyer, Alyona Kim's stay in Tajikistan caused suspicion from law enforcement agencies of Uzbekistan. There are no reports about whether they did something then.
Last year, law enforcement officers detained Zulya Khalimova, and they found a photograph of Alyona Kim in her photo album. "During the interrogation, Zulya Halimova testified against my sister. But despite this, Khalimova was also found guilty of espionage and illegal crossing of the state border and sentenced to 12 years in prison," Sultanmuradova said.
"On 7 December last year, Alyona did not return home. She worked as a nurse in a hospital in the city of Shirin. The next day we were informed that she was detained for ten days for committing an administrative offence. She was in an isolator in Yangiyer. On 16 December, she was accused of refusing to wash the floors in the detention centre and extended the term of the administrative arrest for another ten days. Then the officer of the National Security Service named Sirozh interrogated her, who started criminal proceedings against her," Alyona Kim's sister continues.
The Military Court of Uzbekistan refused to comment "Ozodlik" on the case of Kim, stating that they do not comment the trials relating to state and military secrets.
Viktoria Sultanmuradova claims that her sister Alyona Kim confessed to the crime after prolonged torture. "On 9 August, my mother met with Alyona in prison in Zangiatinsky district. She told her about the torture and showed bruises on her body," she said.
Fergana News Agency