Tajikistan: Authorities obliged the population to wear national clothes and banned some rituals
The lower house of the Tajik parliament required the citizens of the country to wear national clothes and know the state language and forbade a number of rituals. As Ozodi Radio (Tajik service of Radio Liberty) reports on 23 August, the legislators made relevant amendments in the law "On the Regulation of Traditions and Rites."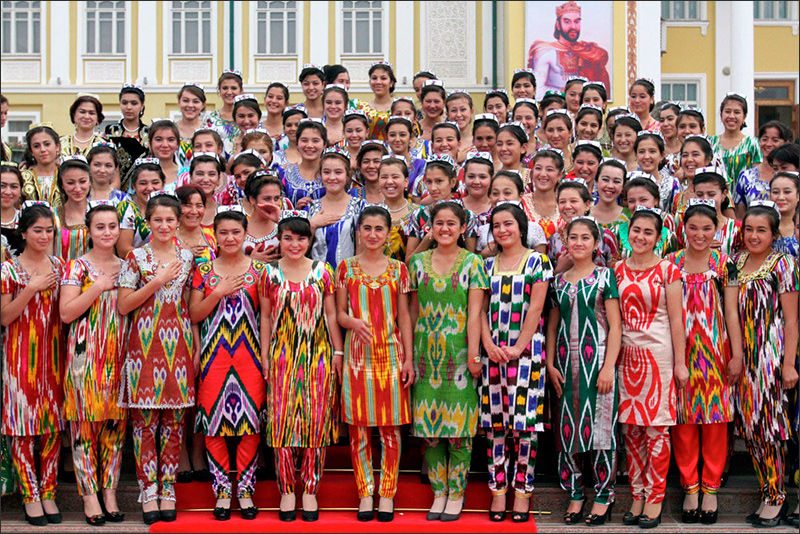 Girls of Tajikistan. Photo by Asia-Plus

According to the chair of the parliamentary committee on family and social protection of citizens Hilolbi Kurbonzoda, shortly the government of Tajikistan will prepare a special order recommending the wearing of national clothes and foreseeing punishment for a violation of the act. It would probably ban religious attributes such as the hijab (Muslim headdress) and "indecent clothes, contrary to the national culture and religion of the Tajiks."
The legislative body among other amendments approved a ban on slaughtering cattle for funeral activities on the 7th and 40th day, as well as its anniversary and a funeral treat.
People must carry out rituals of naming, cradle, ending forty days after the birth of the child, the first haircut of the child and others associated with the birth of the child only within the family without treatments for others, involving musicians and singers. The same applies to the circumcision rite, the procedure itself will be carried out with the consent of the parents until the twentieth day after the birth of the son in medical institutions and free of charge.
It is also forbidden to honour the "hodjis" who returned from the pilgrimage to the shrines of Islam, as well as some other rituals.
"All these measures envisaged to save the parents' money and prevent a decline in people's standard of living," the press service of the Tajik president explains.
The penalty for non-compliance with the country's regulation is up to 35,000 Tajik somoni (about $ 4,000), while variating fining officials and fixing the highest possible amount for individual entrepreneurs and religious figures.
The law regulating expenses for celebrations by people initially drafted by President Emomali Rahmon is actual since 2007. According to the document, citizens who spend lavish weddings and funerals, thereby damaging their family budget, are subject to fine. According to official data, Tajiks spend almost $ 1.5 billion for various ritual activities annually. At the same time, third of Tajikistan population lives below the national poverty line.
Fergana News Agency