Emomali Rahmon asks China to participate more actively in construction of medium hydro power stations in Tajikistan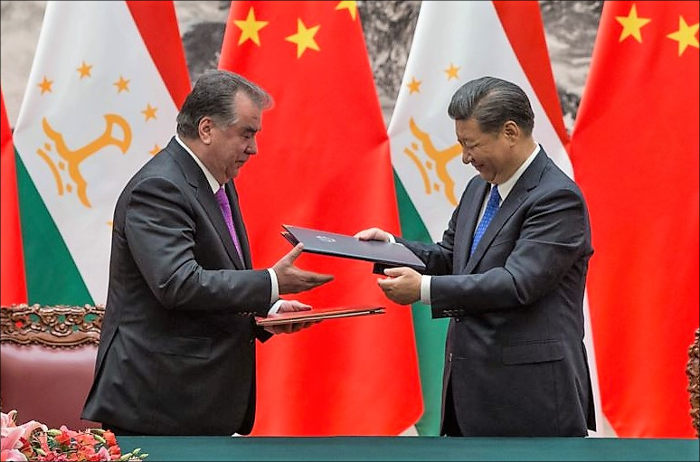 Emomali Rahmon and Xi Jinping
Thirteen signed bilateral documents on cooperation became as a result of
Tajik
President Emomali Rahmon's state visit to China after his talks with Chairman of the People's Republic of
China
Xi Jinping on 31 August in Beijing.
The documents cover strategic partnership deal between Tajikistan and China; human resources, infrastructure, technical and economic cooperation on irrevocable assistance, soft loan for the construction of a 500-kilowatt power transmission line in Tajikistan, the Tajik presidential press office reported.
During the talks, Emomali Rahmon called China "a reliable partner of the Republic of Tajikistan," noting that China's direct investment does not yet affect the hydropower sector of the republic.
"Tajikistan is interested in the active participation of the Chinese side in the implementation of projects for the construction of medium-capacity hydroelectric power stations," Emomali Rahmon stressed.
The Tajik side proposed cooperation in the reconstruction of Tajikistan's hydropower capacities, in the transport and transit sector, including the construction of the regional railroad China-Kyrgyzstan-Tajikistan-Afghanistan-Iran, which will revive the southern branch of the Great Silk Road.
Particular emphasis was made on the construction and reconstruction of aluminium production plants, importing modern machinery and technologies from China and exporting Tajik fruits and vegetables. The sides spoke in favour of strengthening the work of the Tajik-Chinese intergovernmental commission for trade and economic cooperation and the relevant subcommissions between Tajikistan and the Xinjiang Uygur Autonomous Region.
The meeting also covered the areas of production of building materials, processing of cotton fibre and mining metallurgy. At the end of the talks, Emomali Rahmon invited Xi Jinping to visit Tajikistan at a time convenient for him.
Emomali Rahmon would take part in the 9th summit of the heads of state of the BRICS countries (Brazil, Russia, India, China and South Africa), which South China city of Xiamen will host on 4-5 September.
At present, China is the major investor, trade and economic partner of Tajikistan. So, for the first three months of 2017, the total amount of Chinese direct investment in the Tajik economy was $ 76.6 million, or 58.2 percent of all foreign investment.
Loans of the Export-Import Bank of China (Eximbank) comprise about half of Tajikistan's foreign debt. China funded important highways in Tajikistan with access to China, Kyrgyzstan and Uzbekistan, the Dushanbe-2 thermal power plant with a capacity of 400 MW, and power transmission lines.
In this year summer, the Tajik authorities reported that China would provide a grant of $ 230 million for the construction of a parliamentary complex in the centre of Dushanbe. China will also fund a construction of a new government building in the capital, Ozodi Radio reports (the Tajik service of Radio Liberty).